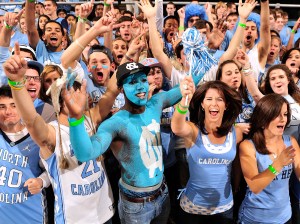 Mayor Michael Bloomberg isn't losing too much sleep over a group of University of North Carolina students who are petitioning the school to revoke his invitation to speak at their commencement in May because of his role in the eviction of Occupy Wall Street protesters from Zuccotti Park last month. The mayor discussed the UNC petition at a press conference for the opening of a new probation office in Brownsville this morning. "I don't know what their issues are. I was honored to be invited by one of the great schools in this country and if they want me, I'll be happy to do it, and if they don't want me, I'll still say nothing but good things about it," Mayor Bloomberg said. 
So far, the petition has amassed 294 signatures. There are over 18,000 undergraduate students at UNC. One of the students who signed the petition, Kari Dahlgren, explained her objections to Mayor Bloomberg to News 14 Carolina.
"Being involved with Occupy, I didn't feel like I could ethically attend my commencement ceremony and feel good about being there," Ms. Dahlgren said. "He's come to represent the anti Occupy. For a movement that has no enemies, he's taken the step to become the enemy by shutting down the park."
Mayor Bloomberg, who served as chairman of the board of Johns Hopkins University from 1996 until 2002, said he thinks dissent is par for the course in academia.
"I used to run a university, if you didn't have things like that occurring all the time I guess you're not doing your job," Mayor Bloomberg said.