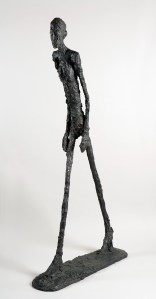 An unfavorable decision by the board that determines the authenticity of work by Alberto Giacometti recently led to "verbal and physical aggression" on the part of the disappointed dealer hoping to receive his bona fides, the Financial Times reports.
Details are sketchy in the Georgina Adam column that tells the story, which doesn't seem to appear in any other English-language newspaper at the moment. In broad strokes:
"A Parisian art dealer took two lamps to the Giacometti Foundation to have them authenticated. He was told they were counterfeit and at a meeting the whole thing degenerated into verbal and physical aggression. The dealer, along with two companions, are now facing charges of attempted theft and violence. Véronique Wiesinger, the foundation's director, said this was typical of "tension in the art market, with enormous financial pressures, and which will only increase". She will be hiring extra security staff as a result of the incident."
Thanks to Art Market Monitor for pointing us to the story.
Correction, 12/28/11: An earlier version of this post inaccurately stated that the authentication decision had been "botched." There is no evidence of this. In addition, it incorrectly stated that no other newspaper had published information about the dispute; in fact, French-language papers had reported it.