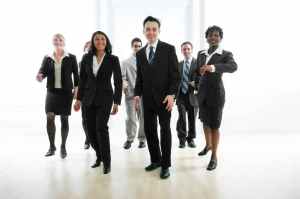 As the global financial system begins to crumble before our very eyes, it comes as no surprise that international buyers are rushing to put their money in the comparably safe New York real estate market. An increasing number of international buyers have been purchasing luxury apartments as investment properties, leasing them out to eager local renters while they continue to bite their nails abroad.
Brokers managing investment properties, however, often find themselves wearing many hats as they bend over (backward or otherwise) to please their international clientele, the Wall Street Journal reports.
From collecting rent to furnishing the apartments, the brokers are dying to please.
Daniela Sassoun, a broker at Corcoran Group, who manages four or five apartments a year for out-of-town investors, can get involved to the point of paying property taxes and deciding on year-end gratuities for building staff members. "I like giving out Christmas tips because it makes people happy," she said.
But, naturally, the obsequiousness doesn't stem from the goodness of their hearts. Come on, this is New York! It's all about the money, naturally.
In some cases these brokers collect a fee for the additional services. But the big prize is landing an exclusive multimillion-dollar listing when the client decides to sell the apartment.
While we haven't heard any reports of brokers unclogging toilets or screwing in light bulbs themselves, we wouldn't be terribly surprised. Whatever it takes to score those deals!