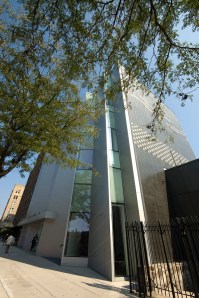 Gallerist never shies away from a bit of good service journalism, and so we are happy today to announce that a news release just landed on our desk stating that the Bronx Museum of the Arts is offering a free family pass–good for four tickets–to anyone who visits during December. The pass is valid through through June 30, 2012. Regular admission to the museum is $5.
The occasion for this fine offer is news that NYC & Company, New York City's marketing company, has named the Bronx museum the "Culture Spot of the Month" for December.
The museum currently has on view solo shows of work by artists Antoni Muntadas and Emilio Sanchez. Acconci Studio's quirky lobby bookshelf installation is also still on view, which is alone worth a visit to the museum.