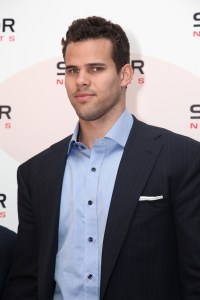 On a Monday night game in Washington D.C. against the Wizards, Kris Humphries, ex-husband of Kim Kardashian, was booed on the court every time he touched the ball, according to reports. He still managed to finish the game scoring 21 points for his team, including 16 rebounds.
Mr. Humphries, along with the Brooklyn Nets coach Avery Johnson, found the whole thing hilarious.
According to Mr. Humphries, he considered the jeering "motivation," although we would go as far to call it "confusing." (After all, who knew there were so many Team Kim fans going to basketball games these days?)
A source from The New York Observer who was at the game and witnessed the booing confirmed that it was "the loudest noise throughout the entire game." Our scout's analysis? "Sports fans love to mock the other team, and Kris Humphries really put himself out there as a public figure, so it makes it really easy to use him as a target to psych out the players."
According to Coach Johnson, who has never watched an episode of Keeping Up with the Kardashians or Kourtney and Kim Take New York:
"I'm trying to figure out, what did he do? I'm serious. Maybe because I don't follow reality TV, I don't know all the ins and outs of it but it's pretty hilarious to me. I don't know if they even know why they're booing him."
Coach Johnson was later seen in the locker room, re-watching the Kardashian wedding special for signs of any potential offensive plays.