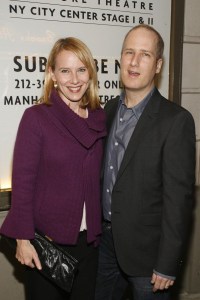 And so goes the endless cycle of Brooklyn's gentrification. As if Michelle Williams, Gyllengaard, and Steve Buscemi weren't enough, there's a new Hollywoodienne in the borough, and yes, she's also an Oscar nominee. City records show that Amy Ryan and her husband, former SNL writer Eric Slovin, have purchased a $3.1 million apartment in Brooklyn Heights.
Mr. Slovin and Ms. Ryan, perhaps most famous for her roles on The Wire and The Office, have a bouncing two-year-old daughter which likely explains their decision to live in the stroller-clogged brownstone belt. The three-bedroom, three-bath home seems spacious enough to invite all your co-workers over, as well as a few dealers and cops for good measure.
Fortunately, couple won't be alone in their new hood. They'll be just a few blocks from Mr. Slovin's writing partner, Simon Rich, who recently bought a townhouse just a few blocks South at Warren Place.
As a Queens native, Ms. Ryan knows her way around a New York block. In an interview with The New York Times last year, the Gone Baby Gone actress explained that the city has a singular vitality. "I need the pulse of New York City," she said, admitting that she draws inspiration from the people she encounters in the subway and on the street. We have the feeling that there will be plenty of material for you to work with in Brooklyn, Ms. Ryan. Only time will tell how the new environs will shape her acting career, however. Perhaps we'll see her in Requiem for Dream Part II?
At the time of the interview last September, Ms. Ryan intimated that she had been interested in moving to Fort Greene, but was concerned she'd be too cut off in the outer borough. Her fears were assuaged, it seems, with the Brooklyn Heights space.
When The Observer spoke with Sotheby's broker Karen Heyman, who listed the property with her brother Alan Heyman, she was eager to emphasize the building's Manhattan-esque qualities. "It has an elevator man, white glove, a beautiful lobby and great location," she said. Indeed in their listing, they Heymans bill the apartment as "PARK AVENUE MEETS BROOKLYN HEIGHTS," spirited emphasis theirs.
Ms. Heyman explained that the apartment recently got a serious facelift. "The renovation was just very, very well planned and top of the line," she said. The loft-style space affords river views from the recesses of family-friendly Brooklyn.
Perfect for Ms. Ryan, who told The Observer the couple was leaving Manhattan to get away from the hubbub.
"I'm a New Yorker, so I do love real estate," she told us over the phone.
eknutsen@observer.com