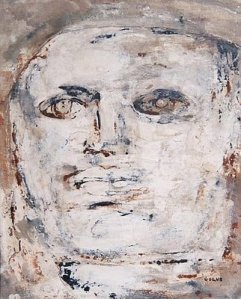 Today is a big day for politicians and art. Earlier, we learned that French president Nicolas Sarkozy was impressed by the price of Yves Klein monochromes, and now we hear that Chicago mayor Rahm Emanuel is hanging some admirably adventurous art in his office.
The Chicago Tribune reports today that Mayor Emanuel has borrowed a ghostly, relatively early Leon Golub painting, Head II (1959), from the Museum of Contemporary Art Chicago, for his office. "I have a particular love for Golub," the former chief of staff from President Obama–who is also no slouch in the contemporary art department–told the paper.
MCA chief curator Michael Darling was impressed by the selection. "[T]he Leon Golub piece is one that I'd say is still an edgy piece, and also from one of the leading historical artists of Chicago," Mr. Darling said.
Mr. Emanuel also has on view a 1971 Miyoko Ito abstraction and, directly behind his desk, a 1957-58 oil painting by Seymour Rosofsky called Unemployment Agency, on loan from the Art Institute of Chicago, which shows men sitting in chairs in a large office, awaiting work.