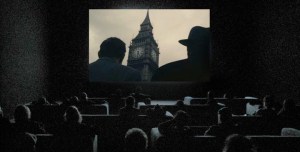 The Clock, Christian Marclay's 24-hour real-time montage of cinematic history, will be traveling to the Museum of Contemporary Art, Sydney, next year in conjunction with the museum's reopening on March 29.
Since learning that each of the six editions of the film has either been purchased by–or is the subject of negotiations involving–a major museum, we've been following where the work would end up. According to Steve Henry, director of Paula Cooper Gallery, which represents Mr. Marclay in New York, the piece at MCA Sydney is on loan to the museum and not in the permanent collection.
Since The Clock is such an investment of time, it poses an interesting dilemma for museums and critics. When the movie premiered at Boston MFA this fall, a group of critics watched the film in multiple-hour shifts in order to write a complete review.
MCA Sydney will stay open for 24 hours on its opening day to show the film in its entirety. The museum will then mostly switch back to normal hours, but every Thursday they will stay open 24 hours for a complete screening. If you find yourself in Sydney next spring, maybe stop by and see how long you can last without having to take a bathroom break or a nap.