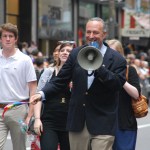 The old joke in New York politics is that the most dangerous place in town is between Chuck Schumer and a microphone.  And true to form, Mr. Schumer has been on MSNBC twice in the last two days (never mind his regularly scheduled Sunday presser) accusing Republicans of being hostage to the Tea Party for their failure to pass the Senate's version of the payroll tax cut.
Today, New York State Republican Party Chairman Ed Cox called on Senator Schumer to return to Washington and negotiate with House Republicans on a bill.
"We join Speaker Boehner and House Republicans in their call for Senator Schumer and Senate Democrats to return to Washington and provide New York middle class families with a full year of payroll tax relief.  With the House in Washington and ready to work with the Senate, it is imperative that Senate Democrats stop the political posturing and work with Speaker Boehner and the Republicans.  Their refusal to negotiate will only lead to tax increases on job creators and middle class families.

"Senator Reid and Senator Schumer, having already rejected President Obama's budget, have not produced a budget of their own in over 965 days and Senate Democrats have failed to enact serious reforms to entitlements and taxes that have already passed the Republican controlled House.  With a void in leadership from the White House, Senate Democrats, and Leader Pelosi, Speaker Boehner and Leader McConnell have been the only adults in the room.  It is time the democrats cancel their vacations and press avails, and fly back to Washington to negotiate.

"This morning, Senator Schumer appeared live on MSNBC, from New York City, where he indicated he would be 'the first one on the plane to negotiate a year long deal.' We call on Senator Schumer to do just that."
There are a couple of factual items to note here. Firstly, Mitch McConnell has been mostly on the same page as Senate Democrats in pressing for a two-month extension. Secondly, while Sen. Schumer did say that he would be the first on the plane to negotiate a one-year extension, that was only after a two-month extension was passed and the Congress recessed for the holidays.
So far, it appears as if most of the blame for a raise in payroll taxes has fallen on Republican heads, so we can expect to see a furious push back in the next couple of days.