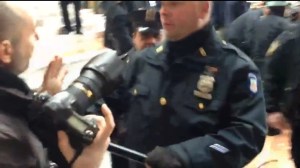 During the Occupy Wall Street arrests at the World Financial Center Plaza this morning, credentialed New York Times freelance photographer Robert Stolarik was prevented from taking photos of the police descending on the Occupy Wall Street protesters. You can even watch it happen in the video! (It's at the two minute mark.)
We're reposting the raw footage of the event as we wait to hear how The New York Times plans to respond to the latest assault on a credentialed journalist, especially coming on the tail-end of the publication's group letter to Mayor Bloomberg and Ray Kelly about the infringement of journalist's First Amendment rights during Occupy Wall Street coverage. (Not to mention Commissioner Kelly's own chastising of officers preventing coverage.)

One officer appears to have shoved Mr. Stolarik down the steps, while another pushed him back with his baton.