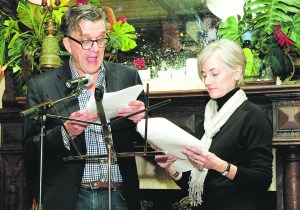 The main lounge of the Jane Hotel was probably the brightest most people had ever seen it on Sunday afternoon, as literati packed the room for a marathon reading of Frederic Tuten's The Adventures of Mao on the Long March, a scrappy postmodern novel that details those dubious adventures —Greta Garbo, in a tank, visits him at one point—and lifts around a quarter of its pages from other sources like Friedrich Engels and Washington Irving. Around 63 readers, identified by number in a program and on a giant screen to the right of the room, read portions of the text over a five-hour period, with memorable turns in the role of Mao from Kurt Andersen and a puppet.
The event was organized by The New Inquiry, New Directions, Bomb magazine and ForYourArt, though Google picked up the check. The reading had no doubt received a boost from a Thursday Styles piece on the New Inquiry's mid-20s contributors, which called them the new "literary cubs"—"Some of the 'cubs' are reading!" a man with glasses around his neck whispered to a friend.
Standing before the fireplace, under the ruined disco ball and reflected by something like 20 mirrors—have you ever noticed how many mirrors there are in that place?—Mr. Tuten thanked everyone for coming and spoke of his youth in the Bronx ("I always think of that poem by Ogden Nash: 'The Bronx / No thonx'"). He praised the young people who came to him with the idea for the reading after performing several of their own smaller-scale readings.
"They were getting together, probably getting blind drunk and flirting, but they were having fun and doing it!" he said. (Actually, The Times, describing a scene at one such reading, was pretty unambiguous on this: "Despite the fact that everyone was young and attractive, no one seemed to flirt or network.")
"Every couple of years The Times writes those pieces," said Lynne Tillman (number 39), in the VIP area upstairs, waving her hand. "More important than that is that there are people continuing to be involved in literature and writing—whether they're literary cubs or small little tigers or frogs, I don't really care!"
There was Laurie Anderson, reading like she'd written her assigned section. There was Lydia Davis, reading like she was afraid of hers. Wallace Shawn grinned like crazy on deck as he watched Deborah Eisenberg's performance. (The journalist James Traub caught up with the two of them on the stairs outside to tell them they were the best. "Oh, I'm sure you tell that to all the number 11s and 12s," Mr. Shawn demurred.)
In the audience, there was a girl with a floppy-eared hat, a pea coat, a skirt so short The Transom couldn't see it, Frye motorcycle boots and a Brooklyn Industries tote bag. I might change your life, her look seemed to say, but I might also break all your Talking Heads LPs in a fight.
"I think there were some reactions to the piece that interpreted The New York Times's interpretation of us as our interpretation of ourselves," said the 26-year-old New Inquiry co-founder Rachel Rosenfelt, pushing the smoke of a bummed cigarette out of her mouth, outside. She works as a public speaking agent to pay the bills and declined to point to any particular negative feedback she'd received, though she emphatically stated she was not talking about Gawker, even though it did call her group "annoying" and "pretentious," en route to mocking the Styles section generally.
"That was, like, the best response we got, in a way!" she said. "I loved it. I remember, it was like, 'Gawker, wow!' I was so star-struck. I really love Gawker! And we couldn't believe we were on Gawker! We were amazed! I felt 100 percent great about everything."
The puppet Mao, about two feet tall and operated by a man in a shabby suit, had wandered through the lounge greeting admirers as other readers read and made a bully pulpit of a couch by the fire, denouncing prostitution and praising monogamy.
Rah-rah monogamy! Mr. Andersen and his wife, Anne Kreamer, served as the grand finale, numero 63—an Oscar Wilde-quoting Mao many years after the Long March, and an interviewer. Mr. Andersen was stirring, earning snaps and guffaws from the audience ("What do you think about birth control?"/"Shut! Up!"). To what did Mr. Andersen credit his ability to channel Mao?  "Oh," he said casually afterward, "being an arrogant killer of millions."
In the lobby of the hotel, Walter Mosely (number 4) said he wasn't surprised that the young ones had latched onto the book. In the years since it was published, fiction had become only more conservative in a way that made Mr. Tuten "not unlike Melville or Gogol—you can look at him today and say, 'Hey, this stuff is amazing!'"
By the way, what was he doing when he was 25?
"Nothing," Mr. Mosley said. "I was wasting time, getting high, getting laid, that's what I was doing."