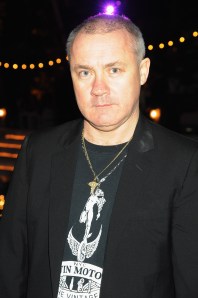 New provisions in the United Kingdom's artist resale royalty rights law are set to take effect on Jan. 1, 2012, allowing the hiers of artists to collect royalties on secondary-market sales of artworks for 70 years after the death of an artist, and Damien Hirst is pumped.
Mr. Hirst told Artlyst:
"I'm pleased that the Artist's Resale Right is finally to be extended to heirs and beneficiaries as in most other EU states. We need to recognise financially their role in preserving art. They spend a lot of time and energy on this and they should have some support."
While Gallerist was eager to ascribe devious motives to Mr. Hirst's support of the provisions, he or his heirs will only be able to receive a maxiumum of €12,500 (or about $16,800) per sale, under a royalty cap that is part of the law. That money, proponents of the law argue, can be used for "storage, conservation, cataloguing, research, restoration, assessment of provenance, and the identification of fakes."
That maximum amount is a pittance compared to the sums–half a million dollars or more–that Hirsts regularly fetch on the auction block. In fact, total resale royalties equaled only about $3.75 million in the UK in 2010, while the record for a single Hirst at auction is $19.2 million, set in 2007, at the height of the contemporary art boom.
With the adoption of the new provisions, the UK's statutes are now in line with those of other European Union member states, which have previously allowed beneficiaries to collect resale royalties.
No U.S. states currently have a resale royalties act (with the exception of California, whose law is currently being tested), though VAGA and other organizations are currently lobbying for a federal law to create such a right.