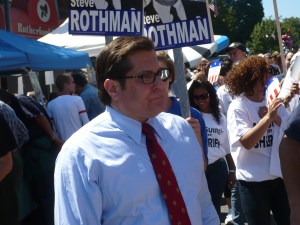 U.S. Rep. Steve Rothman was promised up to $2 million in financing from the national Democratic Party if he challenged U.S. Rep. Scott Garrett in the newly configured 5th District, but turned it down in favor of an unpopular 9th District primary, two sources with knowledge of the offer tell PolitickerNJ.
Rothman was seen by the Democratic Congressional Campaign Committee as the best choice to defeat Garrett in the newly drawn 5th. The district favors Garrett by roughly four points, but contains portions of Bergen County where Rothman is popular.
According to sources, the party told Rothman it would commit $1 million uprfont with more to come should the race prove competitive.
Opinions are mixed among Democrats over whether Rothman had a shot to beat Garrett, but many Democrats say they feel he owed it to the party to try.
"The DCCC was willing to commit $1 million without even seeing a poll and would have gone to $2 million if Rothman was competitive," one source said.
A spokesman for Rothman had no comment.
Earlier this week Rothman declared his intent to challenge U.S. Rep. Bill Pascrell, who has represented the 8th District since 1996. The new map adopted last week by the congressional redistricting commission combined large portions of the 8th and 9th Districts, but placed Rothman's hometown of Fair Lawn in the 5th District, which is currently represented by Garrett.
State and national Democrats had hoped he would challenge Garrett, but Rothman instead chose the primary, saying in a release that more than 50 percent of the voters in the new 9th District come from the district Rothman has represented since 1996.
In the release issued this week, Rothman cited the support of dozens of elected officials and county and municipal chairmen from Bergen and Hudson counties.
For his part, Pascrell has not backed down from the challenge, saying in his own release that he plans to continue to represent his constituents.