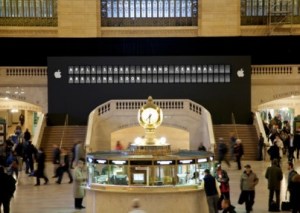 With all the fan boy excitement surrounding the new Apple (AAPL) Store at Grand Central, it is no surprise the shiny glass bauble was able to land a sweetheart deal for the space. Now, State Comptroller Tom DiNapoli is probing Apple's lease with the M.T.A., according to the Post, looking for signs of whether or not there was anything untoward about the deal.
As the Post reported yesterday, Apple is forgoing profit-sharing requirements that are common among most Grand Central retailers at the same time the glass goldmine is enjoying particularly below-market rents for its space. Receipts are expected to top $100 million a year.
"The article in the New York Post about the M.T.A.'s contract with Apple in Grand Central Terminal is a cause for concern," Mr. DiNapoli told the tab. "This is a prime property, and I intend to make sure that the M.T.A. hasn't given away the store."
The M.T.A. argues that because Apple had to buyout the previous tenant, it is actually paying about three-times its listed rent of $60 a square foot, and there is the fact that the M.T.A. is still making more off Apple than the restaurant it is replacing, almost 10 times as much. Still, why is it everyone always makes exceptions for Steve?