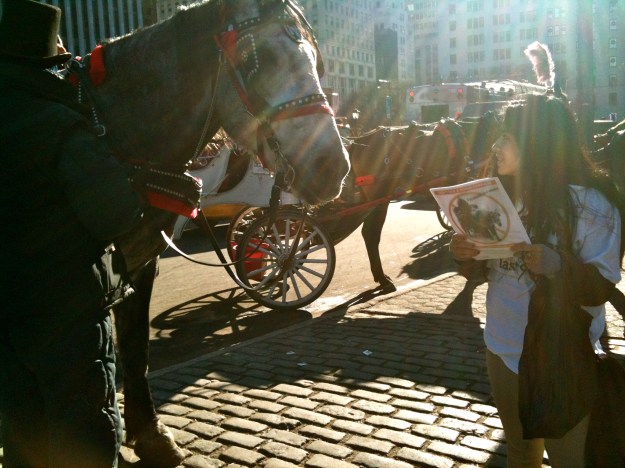 The two little blonde girls, each no more than nine, stood next to their parents on the cobblestone sidewalk at 59th Street and Fifth Avenue, slouching in the way only bored children can. Moments before, an older woman had come up to the family wielding a flyer emblazoned with the words "DON'T RIDE A HORSE CARRIAGE," and proceeded to feverishly explain what she viewed as the evils of the industry. During the speech, the girls' father stared blankly into the intersection. He finally looked down at his daughter and asked, "What do you think about that? You asked earlier…about the horses? How they were treated?"
The girl didn't have long to respond. After observing the interaction, a carriage driver finally swooped in. "Let me give our side of the story now," he said before leading the family to his brown horse and extravagant carriage, explaining that the horse used to work in Amish country. The driver set the girl up with a carrot to feed his horse and before long the family climbed in for their twenty-minute ride through Central Park. 
"It's time for us to educate back," explained the driver, Erez Ziv, before leading his horse down the street.
And so went most of Sunday afternoon as volunteers with New Yorkers for Clean, Livable & Safes Streets (NYCLASS) educated passersby—mostly tourists—on how the animals "suffer from injury, abuse and neglect." Just a week after one horse fell, and two months since the on-the-job death of another, Charlie, the gathering was part of four holiday "Teach the Tourists" events this month where volunteers distribute anti-horse carriage flyers, triggering steely looks and curt comments from drivers.
"We're not in your face," Allie Feldman, the group's lead organizer, told The Transom. "It would be counter-productive to scream."
Before sending out volunteers, Ms. Feldman explained that their strategy should be creating a conversation with people. Talking points should include the abuse of the horses, as well as the group's solution: a City Council bill, Intro. 86A, which would increase restrictions on horse carriages and eventually replace them with electric, antique cars or  "horseless carriages."
While most drivers managed to ignore the public relations nightmare happening not three feet from their customers, a few shouted or grumbled in the volunteers' direction. We heard a few "Fuck you"s—at least one shouted in a thick Irish brogue.
Ashley Arias, a student at Fordham University, said that a driver called her a "lying little bitch" on Saturday. But Ms. Arias didn't seem to mind their comments or being a harasser herself—the holiday season was the best time to get the group's message across. "This is when they want to ride the horses the most," she said.
About ten volunteers showed up on Sunday, but pedicab solicitors soon joined their ranks. "This guy's an entrepreneur," said volunteer Erika Mansourian, pointing at one. "He's working the abuse into his pitch."
(Stephen Malone, president of the Horse and Carriage Association of New York City said, "NYCLASS is getting in the faces of our customers and interfering with our business, claiming that our horses are 'abused and suffering."' If we try to correct them on their so-called facts, I'm labeled an 'animal abuser' as are my customers.  No New York City carriage driver, owner or stable has ever been cited for cruelty.  Pulling a carriage through Central Park does not constitute abuse.")
One carriage driver stood a few feet from a cluster of volunteers, rolling his eyes. Did he think the flyers were going to hurt his business? "Look around," he said with a gruff chuckle. As for the accusations of abuse, the driver said he takes such good care of his horse, Cosmo, that he's overweight. "It's convenient for them to have other facts," the driver said.
Cosmo's owner wouldn't give us his name because he wasn't so sure we weren't part of an undercover anti-carriage operation, rather than a reporter. If we weren't distracted by the earthy smell of horse dung, we'd probably have been more offended.
The above article has been updated to include a comment from Stephen Malone of the Horse and Carriage Association of New York as it appears in the print edition of The New York Observer.