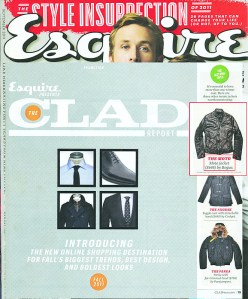 In 2010, flash sale giant Gilt Groupe dabbled in editorial content, restoring the glossy magazine editors felled by the axe of McKinsey & Company to their rightful, expense account-enabled glory, atop blogs like Gilt Taste, Insider, and MANual.
Those operations may have been a drop in the bucket for the billion-dollar company, but they appeared to have an equal and opposite reaction in traditional media, setting off an e-commerce arms race across magazines in 2011.
Contrary to gender stereotypes, Conde Nast's and Hearst's rival men's magazines emerged as some of the biggest players in the new hybrid game. This fall, GQ partnered with the Gilt Groupe full-price men's store, Park & Bond, and Esquire opened CLAD, a luxury online store merchandised by J.C. Penney.
And now that magazines are in the business of retail, the month of December isn't just "Best of the Year" lists and Four Seasons lunches. There's inventory to move!
Park & Bond stocked an empty space in the Meatpacking District with items from GQ's "Best Stuff of 2011," feting the ephemeral store's opening on Tuesday night.
Paul Sevigny DJ'd and a St. Germain, vodka, grapefruit juice cocktail called the Gentleman was served. The vodka was omitted from the Transom's Gentleman, but we were too distracted by the bone structure of the gentleman serving it to complain.
In fact, the store was staffed such that an appearance by Gossip Girl star Chace Crawford might have gone unnoticed were it not for the cluster of women he attracted.
We asked Mr. Crawford what it had been like to act with Keith Gessen, the n+1 editor who recently portrayed the public boyfriend of Nate's (Mr. Crawford's character's) secret lover.
Mr. Crawford smiled blankly. Who could blame him? Gossip Girl's cameos (Jonathan Karp, Jay McInerney, Sloane Crosley, Hamish Bowles, Stefano Tonchi) had become a more detailed media and literary directory than the Michael's reservation log.
"Everyone was great," he concluded.
We surrendered him to a group of women with their iPhone cameras poised.
Revelers lingered around the tie display, where we watched a young MSNBC marketer drip cocktail condensation on a particularly fine wool specimen.
We cringed. We recognized the make, the signature wool in saturated rainbow cookie shades. They were made by that handsome Harvard graduate, the one who made that documentary. They were pretty expensive. Where had we read about those before?
Ah, yes, in GQ.
Retail was out of sight, if not out of mind, at the launch of Esquire's CLAD, nearly a week later on Monday. Esquire made the increasingly radical decision not to open a pop up store this season, and instead threw a party just a few cobblestones away from Park & Bond in the dim vault of Double Seven.
Esquire had been seeking a retail partner for years, editor in chief David Granger told the Transom, and has always been adventurous. He mentioned their pioneering augmented reality issue in December 2009, admittedly a one-off.
"You have to do these things before you know whether they're going to be fun or good or profitable," he said.
CLAD envisions its shopper, like the Esquire reader, as what Mr. Granger calls the "high normal American guy." Educated but not pretentious, successful but still ambitious. The magazine's fashion department reports back from shows in Milan and London to give CLAD executives a sense of where they see trends going.
"A lot of men lack confidence," he said. "Taking part in CLAD is just another way to educate men about how to present themselves to the world."
Mr. Granger's sartorial road to Damascus moment occurred during his years as a sports reporter. He saw a photo of himself in the dugout with  David Parker, looking schlubby with long hair, a plaid short sleeve shirt and "some sort of nasty khakis."
"Well, no wonder all these athletes hate us," he remembered thinking. "It's not because we're reporters asking impertinent questions, it's because we look like shit!"
The Transom silently blessed Mr. Granger for abiding our dingy jeans.
"I decided then that I would always be better dressed than the people I was reporting on, so they didn't think 'I don't need to talk to this person.'"
It did the trick for Esquire great Gay Talese, we supposed.