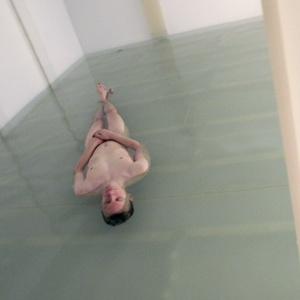 That sensory deprivation tank at Carsten Höller's "Experience" exhibition at the New Museum–the one that really awakens the latent mysophobia that we often deeply repress while living in New York and having to take the subway everyday–continues to make us feel all icky.
On Friday evening, Gothamist posted a message sent in from a reader claiming she and her partner contracted ear infections from getting into the chemically treated primordial art soup:
"I went to the New Museum with my boyfriend on Sunday, November 27th. My boyfriend and I waited in line for three hours to float in the sensory deprivation tank… Which means that I would float around naked in a tank that many museum visitors had already been in that day. I recognize some risks here, but the water was heavily chemically treated, and the NY Health Department had already cracked down on them for some issues, so I figured, how much more dangerous could this be than a typical pool?

"Well, at least marginally more dangerous. Two days later, we both had very painful ear infections in both ears. I had never had an ear infection in my life! After 8 days of antibiotics, our ear infections are STILL not gone. I tried to post this information on their Tumblr, but surprise, surprise, the moderator has not yet approved my post."
Earlier this year, the New York Health Department limited the tank's capacity to one person at a time to prevent the spread of infectious diseases. Keep in mind that one strips naked to get inside this bad boy, something that–come to think of it–awakens another, probably more pathological fear of things like gym locker rooms, etc. Recall also that this thing is called the Psycho Tank, which is a totally different irrational phobia that we won't even get into other than to say it is closely related to a certain crucial scene in Alfred Hitchcock's 1960 classic, Psycho.
You can still pay $16 to take a dip up through January 15.