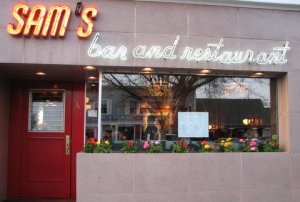 Sam's Pizzeria, an East Hampton establishment beloved for its thin-crust pizza and its Draconian "for the love of God shut your kids up" policy, has put its Newtown Lane space on the market for sale or lease.
The 3,110 square foot building includes a 91-seat restaurant and bar, a 400 square-foot retail space, and two 2-bedroom restaurants. It can all be had for a cool $6.5 million, according to Brown Harris Stevens.
Founding owner Sam Naska and his family launched Sam's in 1947 and maintained the restaurant's timeless look until its recent sale to Graham Quinn.
The restaurant served as a reminder to East Hampton's classic, sleepy feel – Jackson Pollack reportedly used to guzzle both pizza and booze there – despite looking out of place once pop-up stores and major fashion brands became permanent fixtures on Newtown Lane and Main Street.
Though Sam's sometimes felt like an unwelcome place to dine – a sign in the front implored diners to keep their children in check,  its waitstaff were as sweet as they were gruff, and their surly barflies often sneered at newcomers – it remained an East Hampton institution.
Now Sam's has become "a unique commercial opportunity," leaving full-time residents, weekenders, and time-sharers with one less option for pizza (Fierro's is still good for a slice).
drosen@observer.com