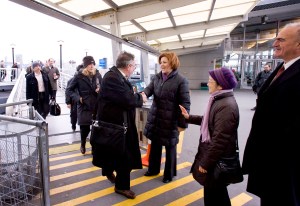 All the haters can walk the plank.
East River ferry service has struggled for years, arguably because it lacked the critical mass, but that is clearly no longer a problem. The service has its six-month anniversary today, and in celebration, all rides today are free.
It is a savvy marketing ploy—the  first week of rides this summer were free, too—but the ferry does not really need it, either. The city's Economic Development Corporation announced that the ferry had already exceeded annual ridership projections, shuttling almost half-a-million riders in the first six months, well above the 409,000 riders expected in that period.
"The fact that East River Ferry ridership is shattering projections in only six months is proof that commuters and tourists alike are discovering both the beauty and convenience of traveling borough to borough on the East River by ferry," Council Speaker Christine Quinn said in a statment. "The East River Ferry has proven to not only provide a more scenic means of transportation, but also a more environmentally friendly, and in some cases, less time consuming commute for riders."
Speaker Quinn and other city officials spent the morning greeting ferry riders at the Wall Street pier.