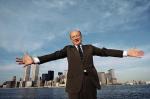 We try to limit ourselves here at The Politicker to one Ed Koch political endorsement post per day, this op-ed from the HuffPo was too good to pass up.
Gingrich is perceived by all as the smartest of the eight Republican candidates vying for the presidency. He is also the whipping boy of all the commentators on the left, and his philosophical positions and character are attacked with a glee and a fierceness rarely seen. But my belief is that Gingrich is not suffering from the attacks. Rather than injuring him, he seems to be gaining new supporters and widening his lead. A recent Gallup poll shows Gingrich leading Romney 37%-22% amongst Republican registered voters.

[…]

Democrats who are supporters of President Obama and are hoping that he will face Newt Gingrich as the Republican candidate are mistaken in their belief that he will be easy to beat. Gingrich is appealing to the anger in this country toward all politicians, particularly those in Congress. The country is looking for a leader, unafraid to tell the truth, and many think that Newt Gingrich is that person.
Mr. Koch notes in the piece that he is a supporter of Barack Obama for president, but there is a hint of "with friends like these…" in his remarks as he lavishes praise on the former speaker.
Despite last serving in office in the 1980's, Mr. Koch still has considerable political heft–just as Congressman Bob Turner.
[Newt Gingrich: Liberal's Nightmare Ed Koch/Huff Po]