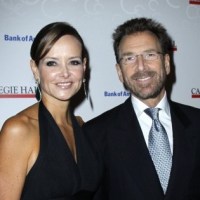 Edgar Bronfman Jr. announced yesterday that he was stepping down from his position as the chairman of Warner Music Group, effective January 31. Turns out he is stepping down from his perch at 812 Park Avenue, as well.
According to city records, Mr. Bronfman has transferred sole control of the triplex penthouse to his wife Clarissa Bronfman, with whom he bought the home in May for $16 million.The transfer of ownership was made for all of $0.00, which suggests it may be for tax reasons—a not uncommon occurrence in the confines of tony Upper East Side abode.
Initially, The Observer sighed, fearing the worst. A divorce on the horizon? It's happened before. "I love my wife," Mr. Bronfman said via a spokesman. He declined to comment further on the purpose of the transfer, though it does not appear to be related to the Warner deal—unless of course a fat, taxable severance in need of offsetting is involved.
Correction: An earlier version of this article said Mr. Bronfman was stepping down as CEO, which he did earlier this year, not chairman, the move announced yesterday. The Observer regrets the error.
eknutsen@observer.com