In what is perhaps every New Yorker's worst fear, an elevator suddenly ascended as a woman was entering it, killing her and injuring two others.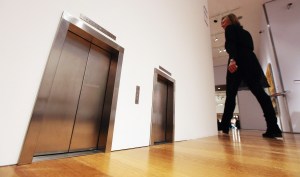 The accident happened at some point around 10:30 A.M.  inside 285 Madison —the soon-to-be former home of advertising giant Young & Rubicam.
The NY Post reports:

The victim, who was not identified, walked into the elevator at about 10:30 a.m. on the first floor at 285 Madison Avenue at 40th Street.

Witnesses said the elevator, with two other people aboard, started to ascend to the second floor with its doors open.

As office workers looked on in horror, the woman became pinned between floors after the elevator started to move before she could fully enter the car.
The two other passengers suffered minor injuries in the collapse.
Young & Rubicam recently committed to 340,000 square feet of space at 3 Columbus Circle after being at 285 Madison Avenue for roughly 80 years.
A Young & Rubicam spokeswoman could not be reached for comment.
UPDATE:
The NY Times is reporting that the deceased is Suzanne Hart, 41. There is a Suzanne Hart who is the Director of New Business, Content and Experience at Young & Rubicam, according to her LinkedIn page, but it was not immediately clear if she was the actual victim.
drosen@observer.com