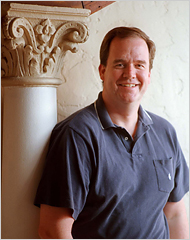 ESPN has poached New York Times investigative reporter and presidential golf expert Don Van Natta Jr.,  the company announced today.
ESPN senior vice president Rob King was utterly transparent about what his hiring should prove to readers.
"Having a well-respected, veteran investigative reporter like Don Van Natta on board is a testament to the commitment ESPN has made to quality cross-platform journalism," he said in the announcement.
Sounds a little bit like the DVN is wagging the ESPN!
That said, the "cross-platform journalism" will be rounded out by Kristi Dosh, founder of BusinessofCollegeSports.com; Michele Steele, a BloombergTV reporter; and Kate Fagan, the Philadelphia Inquirer's 76ers reporter.