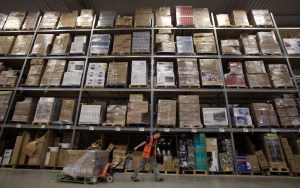 This morning, a writer named Farhad Manjoo wrote an article for Slate called "Don't Support Your Local Bookseller." Mr. Manjoo called your local independent booksellers the "least efficient, least user-friendly, and most mistakenly mythologized local establishments you can find."
He goes on: "As much as I despise some of its recent tactics, no company in recent years has done more than Amazon (AMZN) to ignite a national passion for buying, reading, and even writing new books." He calls the selection at any bookstore "paltry" in comparison, and wonders why anyone would want to know what bookstore employees suggest one read when there's an algorithm to do it "based on others you've read." Bookstores, he explains, are "economically inefficient."
Unleash the fury of New York City! On Twitter, Sasha Frere-Jones asked Mr. Manjoo what he thought of a recent investigative story about the working conditions inside Amazon warehouses. Emily Gould, proprietor of Emily Books, called the article "ragebait." Indie publisher Algonquin Books named it "Dumbest article of 2011." Riverhead publisher Geoff Kloske comments,  "In Slate @fmanjoo appears not to realize that self publishing has been around for awhile. Doesn't realize that e 'singles' predated amazon." Independent bookseller Dustin Kurtz does a play-by-play excoriation.
Even Cranky Kaplan had his say: "JUST WHEN YOU THINK THE INTERNET COULDN'T CRAP OUT ANOTHER OVERPAID IDIOT, HERE COMES @fmanjoo. GUY HATES BOOKSTORES, PUSSY AND GIN."
Anyway, if you want to read something more amusing in Slate today, try "The Best Dismissive Replies by Literary Heavyweights." It might prove useful.