The law firm Milbank Tweed, Hadley & McCloy LLP is negotiating to renew its lease at the downtown office building 1 Chase Manhattan Plaza, sources said.
The firm occupies 375,000 square feet on several floors at the property, which is owned by the bank JP Morgan Chase. Rents in the deal were not available by press time. The lease is a change in plans for the company.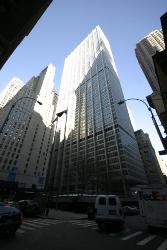 For months, Milbank had been circulating around the market, apparently intent on moving from its current location. More recently, the firm had zeroed in on the World Financial Center, a multi-million-square-foot office complex west of the World Trade Center.
A broker at a major real estate firm told The Commercial Observer yesterday that Brookfield Properties, the owner of the World Financial Center, had seemed confident it would sign a lease with Milbank to take some of the hundreds of thousands of square feet of vacancy it has at the property. On floorplans of the four-building complex that Brookfield showed to brokers in marketing presentations, this source said, the company had darkened a roughly 300,000-square-foot area to show that the space was spoken for.
Milbank's renewal deal is another tough twist for Brookfield.
Over the summer, the Japanese financial firm Nomura signed a deal to uproot more than 500,000 square feet at Two World Financial Center to about 900,000 square feet at Worldwide Plaza in midtown. The deal was especially disappointing because of the close nature of the contest between Brookfield and the owners of Worldwide Plaza, an investment partnership led by the real estate firm George Comfort & Sons. Only after a months-long period of jockeying between the two landlords did George Comfort appear to pull away with the deal, which was one of the year's biggest.
Another sizeable World Financial Center tenant, the accounting firm Deloitte, also reached an agreement to leave. Last December, Deloitte signed a lease to take about 500,000 square feet at 30 Rockefeller Center. Deloitte, too, had appeared on the cusp of signing with Brookfield before abruptly reconsidering.
Bank of America meanwhile, whose subsidiary Merrill Lynch is the World Financial Center's biggest tenant, recently announced that it would renew 767,000 square feet of the space it has there. Although the deal is sizeable, it's only a fraction of the bank's previous footprint. According to published reports, Merrill had about 4.6 million square feet in the 8 million square foot complex.
Many brokers say that, despite its recent string of hard luck, the World Financial Center is among downtown's best office locations and that the complex will attract takers, especially if the office market continues to improve.
Dale Schlather, an executive at Cushman & Wakefield represents Milbank. Neither Schlather nor a spokeswoman from Milbank would comment. Brookfield and JP Morgan Chase also did not return calls by press time.
Dan Geiger, Staff Writer, is reachable at Dgeiger@Observer.com