Garan Incorporated, an apparel company owned by Warren Buffett, has signed a 50,000-square-foot deal to relocate from the Empire State Building to 200 Madison Avenue.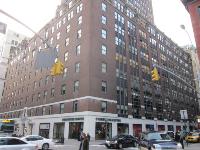 The company, which is know for its Garanimals-brand line of children's clothing, will expand by over 10,000 square feet in the deal. Garan will take the 575,000-square-foot building's entire fourth floor for rents that average in the mid $40s per square foot over the life of the deal, which stretches for ten years.
Jim Saunders, an executive at the real estate services company Newmark Knight Frank, represented Garan in the lease with colleague Noel Flagg. Mr. Saunders said that he had spent nearly three years on the assignment, trolling the market for a space that would be suitable for Garan.
At the Empire State Building the firm was crammed into a single floor under 40,000 square feet in size. Though the company was eager to sprawl into a larger footprint, it preferred to move into a building that could accommodate all of its operations on one floor.
"When you are vertically integrated, it doesn't matter what kind of a tenant you are, there are redundancies that force you to take more space and be less efficient," Mr. Saunders said. "You have to have two lobbies or entrance ways, dual sets of copying machines and other equipment whereas if you have one floor you can consolidate."
Besides the firm's physical space requirements, it also preferred to stay in midtown in order to remain close to clients and convenient for its commuting workforce.
"We started looking three years ago and as we started putting together all the requirements, a single floor 50,000 square foot space in midtown at the right rental rates, the field of options really begins to taper down," Mr. Saunders said.
Initially, even the fourth floor of 200 Madison Avenue didn't seem like a sure fit Mr. Saunders said. The space was being offered for sublease by the apparel company Iconix Brand Group with a three year term, a relatively short length that wasn't suitable for Garan, which was looking to lock down a longer deal. Sensing he could help negotiate a solution, Mr. Saunders said he approached Iconix and the building's landlord, George Comfort & Sons, to see if a transaction could be arranged. In order to facilitate the deal George Comfort, a landlord that owns a number of office properties in the city including Worldwide Plaza, eventually reached an agreement to terminate Iconix's lease so that Garan could step in and take the space long term in a deal directly with the landlord.
Mr. Saunders said Garan, which was acquired by Warren Buffett's holding company Berkshire Hathaway in 2002, will demolish the space that Iconix used and build a new office installation.
According to market information, Garan received about $60 per square foot from the landlord to help cover the cost of constructing its new space.
DGeiger@Observer.com