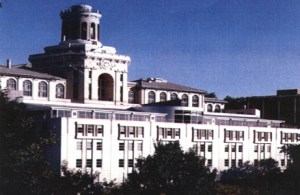 Cornell can have its fun up on Roosevelt Island, but that won't stop Steiner Studios from bringing Carnegie Mellon to town. The Navy Yards-based film studio just released a statement saying it continues to work on its plan for an entertainment-tech campus in Brooklyn.
We remain committed to bringing Carnegie Mellon and its Advanced Digital Media Lab to Steiner Studios as part of our vision to create a 50-acre master-planned media campus furthering New York City's explosive growth and vast potential in content creation and distribution.

We applaud Mayor Bloomberg for his initiative to enhance the city's high tech corridor with new educational facilities; we also congratulate Cornell University and wish them the best with their plans to create a new science graduate center on Roosevelt Island.
If Steiner indeed succeeds in bringing C.M.U. to town, it would be an added bonus for the Bloomberg administration. Not only did it succeed in bringing one high-profile tech school to town, but it may well get two for the price of one.
C.M.U. officials were not immediately available for comment.
This also does not rule out N.Y.U.'s plans for a bigger footprint in the borough at its new Poly campus in Downtown Brooklyn. Could this be a three-fer?
Update: Here is the statement from C.M.U., still very much in the hunt for a Brooklyn campus:
First, we want to congratulate Cornell University, Technion and Mayor Bloomberg on the plans announced today.

Meanwhile, Carnegie Mellon is a partner on two proposals that continue to be under discussion. Both would be located in Brooklyn. In the first proposal, we are collaborating  with NYU and other organizations on a research center in downtown Brooklyn. We suggest you contact NYU for more information on that proposal.

On the second proposal, we are again one of the partners, this time with Steiner Studios. In this proposal, we would be one of the tenants in a project at the Brooklyn Naval Yard that would create or renovate studio spaces. Carnegie Mellon and Steiner Studios are developing a partnership that would build a program in New York in areas such as digital media and entertainment technology.

We look forward to these continuing discussions.