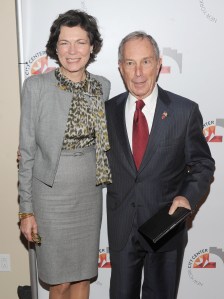 Diana Taylor, the partner of Mayor Mike Bloomberg and a member of the board at Sotheby's, confronted locked-out Teamsters Local 814 and Occupy Wall Street members during a December 1st meeting Hudson River Park Trust (for which Ms. Taylor is chairwoman on the board of directors).

She did not react well to their intrusion…in fact, she threatened to resign if Sotheby's CEO Bill Ruprecht "accedes to any of your demands."

The locked-out art handlers have made several attempts to shame Sotheby's into responding to their demands, but considering Ms. Taylor's relationship with the mayor, the art auction house, and Brookfield Properties (for which she's also on the board of directors), this is perhaps the most inflammatory response the Teamsters could have hoped for.
Now a group calling themselves Teamsters Joint Council 16 are demanding that Ms. Taylor resigns from her chair position at the Hudson River Park Trust unless she apologizes for her comments…or else be ousted by Governor Andrew Cuomo.