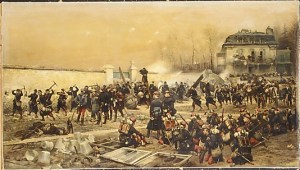 On January 27, Sotheby's New York will offer 13 works by Édouard Detaille and Alphonse Marie de Neuville from the prestigious Forbes collection as part of an Old Master and 19th century European art auction, the company announced recently.
The works are "studies for and fragments from the Panorama of the Battle of Champigny," a collaboration between the two artists that was ultimately destroyed. The works will be displayed publicly starting January 21.
And now for a bit of cold water: here is Souren Melikian today, expressing concern that sellers might not want to take their Old Masters to auction in the current market.