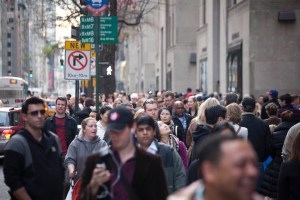 The other day, The Observer quoted a message frequently delivered by N.Y.U. streets guru Mitchell Moss, that instead of roads or bike lanes, the Department of Transportation should focus on wider sidewalks. It turns out the department, or at least the numbers it has compiled, agree.
New York City sidewalks have grown more crowded in the past few years, according to DOT surveys reviewed by The Times. The pedestrian volume index, which is measured twice a year at the 50 of the city's busiest intersections, has risen 13 percent since the city began tracking these statistics in 2007. That's an extra 30,000 people in Times Square every day, or the total undergraduate enrollment of N.Y.U.
About 350,000 a day in Times Square, 97,000 on Main Street in Flushing, Queens, and 80,000 on East Fordham Road in the Bronx, according to a 2007 study.

Surveyors wielding hand-held counters found 31,701 people on West 34th Street between Broadway and Seventh Avenue from 4 p.m. to 7 p.m. on May 10 and 26,106 on Fifth Avenue between East 54th and 55th Streets during the same time period two days later. On West 14th between Hudson and Eighth, the volume was 11,166 in September, according to preliminary figures, compared with 8,911 in May and 7,0555 the previous September.
The busiest intersection, year over year? That would be 14th Street between Hudson Street and 8th Avenue. We'll attribute that to lines to get into LeBain and out front of the Apple store for a new iPhone.