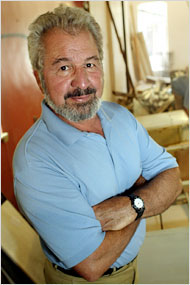 While home improvement master Bob Vila may be known for giving drab homes D.I.Y. facelifts, around these parts he is better known as a successful flipper of top-of-the-line Manhattan real estate. There was the Tribeca loft—where he was neighbors with Mariah Carey—the Upper East Side townhouse, the two apartments at Museum Tower. Even Mr. Vila's son Chris has gotten in on the game.
That is why it is so surprising the salt-and-pepper-of-the-earth handyman has had a hard time selling a penthouse at 15 East 26th Street that he bought two years ago.
Mr. Vila purchased the Flatiron condo overlooking Madison Square Park back in early 2009, paying just over $6 million for the two-bedroom, three-bath penthouse. With a 600-square-foot private terrace and a ridiculously proportioned master suite, the home would impress even the uptown set. The condo also features a home office where Mr. Vila undoubtedly sat in deep contemplation, pondering the best gutter-cleaning practices and kitchen tiling tactics.
Unlike many of Mr. Vila's previous purchases, it appears he had no intention to renovate this property, as The Times noted when he bought the place that the penthouse was move-in ready.
The building, also known as 15 Madison Square North, is described by its developer as transporting residents back to "the warmth and grandeur of a time when the city's elite traveled by carriage." Perhaps the place did not jibe with Mr. Vila's pick-up truck proclivities. The 20-story condo was a former commercial building erected in 1912 that still, quite appropriately, houses many home supply showrooms on its lower floors. On the top 11 stories there are now 72 condo units.
Strangely, it seems that Mr. Vila knew he was destined to lose money on the deal. When he put it on the market last May, the asking price was $5.7 million,  a full $300,000 less than what he paid for it—unusual circumstances considering so many homes bought during the doldrums of the housing bust are now being passed off for considerably more.
After several price chops, an anonymous buyer ended up paying just $5 million for the place, according to city records. Hopefully this has not soured Mr. Vila on New York for good. As busy as he is with these renovations, there is plenty of sweat on The Observer's brow trying to keep up.
eknutsen@observer.com