Construction started today at Foursquare's future 56,000-square-foot Soho office, rounding out a year of new horizons and new funding—to the tune of $50 million—for the location-based startup.
Foursquare, which will be moving out of its current office at 36 Cooper for the top two floors at 586 568 Broadway, has tabbed one-year-old architectural firm Echo Design + Architecture to lead the design for its 10th-floor office space.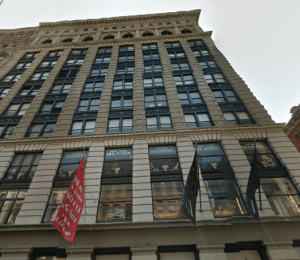 Their new office will be both minimalist and high-tech, incorporating the theme of Foursquare's iconic "badge" to "reflect the corporate identity," said Ajay Chopra, the 37-year-old owner of Echo Design + Architecture.
"The badges represent Foursquare's identity in many ways, and we sort of captured that through the space," said Mr. Chopra, who declined to explain how, exactly, that theme will be mapped out.
The company's tenth-floor office will be 20,000-to-28,000 square feet, and will feature the open and collaborative space–open desks, conference rooms–that has become de rigueur for any tech headquarters in Silicon Alley.
The space will also have an eye for future hires.
"There is plenty of room for expansion, and we definitely planned the build-out with future growth in mind since we're continuing to hire aggressively," said Erin Gleason, a foursquare spokeswoman.