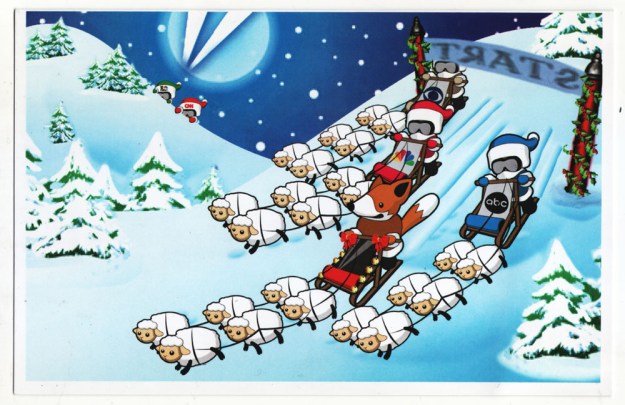 Today The Observer received a holiday greeting from  Fox News.
But the card, which is signed by the members of Fox's publicity department (including the famous Irena Briganti), didn't offer much in the good tidings department. It was actually really hostile and competitive.
First let's unpack the image.  This is no watery, non-denominational, winter solstice blessing. This image is on message and the message is Fox News is winning. Just look at how Fox (here represented by the fox) is pulling ahead of CBS, NBC and ABC (more literally represented by their network logos). CNN and MSNBC aren't even in the race. They're in the left corner, almost too scared to watch.
Inside there's a Fox News version of "Joy to the World" that is far less clever than "Joy to the World (My Teacher's Dead)," which was written by fourth graders. (The sentiment, though, is roughly the same.)
We dare you to try and match Fox's twisted syntax to the rhythm of original hymn.
Joy to the world for Fox News Channel
Consistently number one
We are the network that viewers choose
Fair and balanced news
See our ratings we don't lose
Beating the rest in TV news
One thing's for certain, we're here to stay
As our fifteenth, we celebrate
News-gathering redefined, our news channel's one of a kind
So many wished we would fail
But we proved we're far from frail
And winning we are as behind us they do trail
Our talent can't be matched, one can't deny
But sadly still they try
Bill O'Reilly and Hannity, Shepard Smith and Megyn Kelly
With Fox & Friends on the couch we sit
While Cavuto gives a financial twist
We go live with The Five and tough questions Baier doesn't miss
Joy to the world for Fox News Channel
The most trusted name in news
The best in breaking news, exclusive interviews
We are the ones to beat
Defeat we shall not meet
So into the background the rest do retreat
The unexpected take-away from this one is that all networks are driven by sheep.