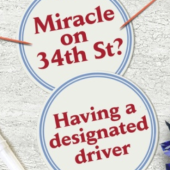 Books have been written and papers published that let us, the ignorant, general public know whether we are indeed alcoholics or not. Usually with the aid of those all important "top tell-tale signs"—putting aside the fact that the most obvious sign you're an alcoholic, is whether you have read a 'tell tale signs are that you're an alcoholic' list.
Alas, no book exists that gives a guide for measuring something as intangible as a physical city, however if one did, you can't help but feel that one tell-tale sign would be the Department of Transportion giving away free taxi rides to stop it's inhabitants from driving drunk.
Well, you guessed it, that's just what the city is doing… again, after first initiating the campaign last holiday season. They're giving away 1,500 free debit cards worth $15 to use in taxis, buses or on subways, as part of their anti-drunk-driving "You the Man" campaign. Four-thousand single-ride MetroCards are also being given away.
'Whose paying for it all?' Johnnie Walker, of course.
"New York City's designated drivers, including taxis, bus and subway operators, keep the good times rolling while making our streets as safe as they can be," DOT Commissioner Sadik-Khan said.
You can use your free ride from today through January 1. To do that you must get the actual ticket first, the full list of giveaway locations is below. Saturday, December 31 at 5 p.m. particularly grabs the eye. Even with that the guilty feeling a lot of New Yorkers wake up to on the first day of the year, at least they will have the small consolation of a free ride home.
Thursday, December 20, 6 p.m. – Astoria, Queens (Broadway & 31st ) and Williamsburg, Brooklyn (Bedford & North 7th)
Thursday, December 22, 5 p.m. – Bronx Hub (149th street between Grand Concourse and The Hub)
Friday, December 23, 5 p.m. – St. George, Staten Island (St. George Terminal) and Downtown Brooklyn (Fulton Mall)
Saturday, December 31, 5 p.m. – Upper East Side (Second Avenue & 86th) and Harlem (Broadway & 125th), Manhattan
sduffey@observer.com