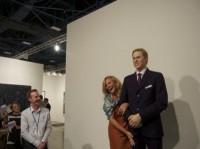 With Art Basel Miami Beach 2011 now closed, Gallerist offers this look back at our reports from before, during and after the fair. Thank you for following along.
FAIRS
A Tour of Art Basel Miami Beach 2011
Photographs from the main fairs' booths.
Kris Martin's Sculpture at Art Basel Miami Beach Could Kill You
Sies+Höke's booth threatened serious bodily injury.
Sales, Speculation and a Ghost at Art Basel Miami Beach
Business was strong; Adam Lindemann showed up.
Morley Safer Roams Art Basel Miami Beach With Jeffrey Deitch
The art-loving 60 Minutes reporter was on the prowl.
At Art Basel, Carl Andres Galore
The Minimalist is having a moment.
The Tables and Chairs of Art Basel Miami Beach 2011
Analyzing the furniture that galleries used in their booths.
NADA Miami Beach Outperforms
Young galleries brought impressive work, a positive atmosphere to the Deauville.
Seven, Miami's Scrappy, Sporting Alternative Fair, Turns Two
Six New York galleries and one from London offered another model.
PARTIES
A Week at Art Basel Miami Beach: Parties Rivaled Art
Visiting A-Rod's house, MOCA North Miami, hedgie Adam Sender's former home.
Is It Hot in Here, or Is It Hell? Beaching and Moaning at Art Basel Miami Beach
Partying with Larry Gagosian, Diddy, photographs of bottoms.
Brandishing Brush for Basel, Nas Paints $14,000 Painting On Stage
The Queens rapper made art; Rashid Johnson bought it.
Hole Gallery Serves Salem, Strippers, Smoke Machine at Basel Bash (NSFW)
The Bowery gallery triumphed at the Delano.
PRIVATE COLLECTIONS

The Rubell Collection's Half-Hearted "American Exuberance"


Sixty-four artists–all citizens or residents of the U.S.–in one rather loosely curated exhibition.
Groupthink in Miami: Visiting the de la Cruz Collection
Big art, name brands and cookies at the de la Cruzes
MISCELLANEA
Blake Rayne at Miami Beach's Formalist Sidewalk Poetry Club
"This is New York City," the artist declared.
Bicycling Art Basel Miami Beach? A Brief Guide
Why not navigate the fairs on two wheels?
PREVIEW
Introduction
Part 1: 1-25
Part 2: 26-50
Part 3: 51-75
Part 4: 76-100