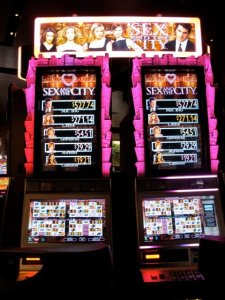 So apparently that new Aqueduct casino—or raceino, or Robot Casino, or whatever you'd like to call it—has inspired gambling fever amongst citizens of the Empire State. Maybe it was all the Sex and the City slots.
Or maybe it's always been there. Whatever the case, a Quinnipiac poll released today shows New Yorkers not just in favor, but strongly in favor of legalized casino gambling in the city:
New York State voters support 64 – 31 percent Atlantic City or Las Vegas style casinos in the Empire State. Support for casinos is strong among all groups and in all areas of the state. New casinos would be good for the economy, New York State voters say 68 – 27 percent. All groups share this view.
Think about it: How much better would Times Square be if they replaced Red Lobster with a bunch of craps tables? Or all of Times Square with a bunch of craps tables? Even better, on even a bad year, Nevada rakes in $851M in taxes from gambling revenue. That could be a nice cushion for an incredibly highly-taxed citizenry in need of some relief, provided they don't actually spend any breaks at the tables.
fkamer@observer.com | @weareyourfek