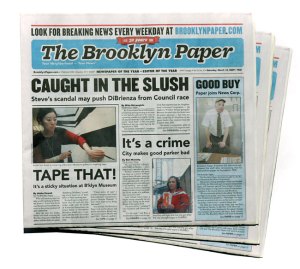 The Brooklyn Paper editor Gersh Kuntzman is leaving the News Corp.-owned weekly for a position at CUNY Graduate School of Journalism, The Observer has learned.
In addition to teaching the craft of journalism, Mr. Kuntzman will oversee its practice on The Local-Fort Greene, CUNY's hyperlocal online news collaboration with The New York Times.
Prior to joining Paper in 2005, Mr. Kuntzman was a longtime columnist at The New York Post and Newsweek, and wrote books on baldness and Chrismukkah, as well as an off-Broadway play, SUV: The Musical.
Mr. Kuntzman had no comment on his successor, but applauded the work of his fellow editor Vince Dimiceli.
"The idea that The Brooklyn Paper could fall into bad hands is just a fallacy," Mr. Kuntzman said.