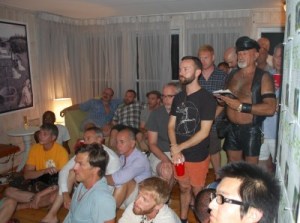 Last summer, about halfway through the inaugural two-week long Fire Island Artist Residency (FIAR), a program exclusively for LGBT artists, locals from the island along with a few transplants from the city gathered at the house the group had rented on Cherry Grove. The range of guests included intrigued summer tourists, young artists, New York curators and a reporter from Fire Island's local paper, wearing leather short shorts, a leather vest and not much else.
"You looked out on this room and there was a total head-to-toe leatherman who smelled like pee standing right next to [the curator] Dan Cameron," said Chris Bogia, in his office at NYU's Steinhardt building on Ninth Street. Mr. Bogia is co-founder of FIAR with Evan Garza, a writer and curator in Boston (he joined in an interview with The Observer via Skype). "I was like: 'This is exactly what I wanted!'"
"There were legendary queer artists on Fire Island," Mr. Garza said. "People like Mapplethorpe and Peter Hujar. Writers like Tennessee Williams and W.H. Auden. There's a total absence of those people now and I think it's so important for us to put artists back in that environment, just to see what happens to their work."
"This confluence of culture," Mr. Bogia cut in, "it's not just about these hip artists going out there and hanging out in this house and being dirty art hippies." He paused. "It is about that, but it's also about pulling in the community. Because it's just disco out there right now, and it is crazy to me that that's still the major attraction."
They say disco was invented on Fire Island, at the nearly mythical dance club Pavilion, which was destroyed by a fire last month. The large wooden structure was built in the 1950s and purchased by the model John B. Whyte in 1966. Drinking would start early in the evening; things would get rowdier, and sweatier—the place didn't have the best air-conditioning system—as the night wore on. AA meetings are also big on Fire Island.
There are two sections to this particular stretch of Long Island that are, more or less, separated by class: the wealthier Pines community and the younger, scrappier Cherry Grove (the literal dividing line is, in the words of one resident, "a sex forest" called the Meat Rack). It has been a lot of different things over the years. The Fire Island Lighthouse, a historical landmark, used to be the first thing ships would see as they sailed into New York harbor. Before the lighthouse was built in 1858, shipwrecks were so frequent that the Fire Islanders of the day would camp out on the beach and live off of the wares of some poor marooned ship (usually after killing the whole crew). Frank O'Hara died there in 1966 under fairly mysterious circumstances. It was a summer escape for gays even in the early 20th century, but in the early '80s, when Reagan was ignoring the AIDS crisis, the place became an important haven for gay New Yorkers, partiers and creative types alike. It's still one of the few beaches in the city where you can wander around completely nude. The founders of FIAR and the five residents who participated in the program want to prove that on top of all that, it's still an important site in the history of art in New York.
Many of the artists in the residency had not been to Fire Island before, and the ones that had were only there as day-trippers. The five artists were selected by artist AA Bronson, who first made a name for himself as part of the legendary queer artist collective General Idea, and Bill Arning, director of Houston's Contemporary Arts Museum. They lived and worked in a four-bedroom house nicknamed Hard Times. There were four visiting artists—including Mr. Bronson—and Mr. Bogia and Mr. Garza were frequently crashing at the house of Percy Steinhart, one of their donors, because they had given up their beds to their new guests. Mr. Bronson, who has a house in the Pines and visited Hard Times often, said in an interview that he was looking for art that had a relationship to queerness and to Fire Island. He said a number of applications by artists who said "I'm queer but my art isn't" were turned down.
"I think the presence of sexuality on Fire Island is ultimately refreshing," Mr. Bronson said. "It's just kind of there. It's strangely freeing. Not only for gay people but also for straight people. The first year I went there, I met a guy who said this place is all about addiction: drugs, alcohol or sex. I tend to look at it in a different way. It's a place of enormous freedom."
Artists A.K. Burns and Katherine Hubbard, who are partners, were at work on an artist salon that was actually a hair salon based on a series of images from LGBT archives in San Francisco and L.A. as well as on conversations with older women on Fire Island. They were attempting to talk about, among other things, how queerness became mainstream and the problems with its representation in the media.
"The L Word, Ellen Degeneris," Ms. Hubbard said. "How we identify doesn't really look like that."
Elijah Burgher, the one artist not from Brooklyn (he lives in Chicago), was taking photographs of his fellow residents for portraits. He spent a lot of time with Travis Boyer, who was at work on his own paintings that ended up lining the walls of the house. The two would go out to the Meat Rack and Mr. Boyer would pose for Mr. Burgher.
Elsewhere in the "sex forest" was Ryan Brewer, who was drawn to that space in particular. "Everyone's cruising ground," he called it. Less than a week into the residency, he began fasting for seven days. Three days into the fast, he went out to the Meat Rack, drew a 10-foot circle in the sand and stayed inside of it for two days.
"Part of the idea was to insert the queer body back into space, but not use it for sexual gratification," Mr. Brewer said. "It was abstaining. What was really interesting was the conversation I had with all of these guys that were cruising. They were older and they had seen the transformations the queer community had undergone in the past 20 or 30 years. Their take on the Meat Rack, and I'm quoting them, was that it was in part 'like Never-Never Land, but in other ways like a graveyard.' People came there to die. One guy came up to me and he was rather emphatic about the ghosts of the Meat Rack. He asked me if I had encountered any of them. He went on to say that one of his lovers was still in there."
The final day of the residency, after many discussions about the island, queerness and art in general, the artists stripped and walked out into the ocean. Hurricane Irene was just beginning to crash into Suffolk County. The residents didn't so much leave as evacuate.
In 2011, gay marriage was legalized in New York and a person could watch David Wojnarowicz's A Fire in My Belly within the walls of a major museum (the video was pulled from the "Hide/Seek" exhibit at the National Portrait Gallery last year and is now on view at the Brooklyn Museum). Often these days, a young (or old) artist addressing his or her homosexuality in a work of art is more a stylistic choice than an ideological one. If queerness is, as Ms. Hubbard says, "mainstream," the question becomes more an issue of whether to shun the label entirely. It took a long time to get to that point.
"In the '70s," Mr. Bronson said, "it was a kiss of death to refer to yourself as gay or queer. In General Idea, we found ourselves always pushing the envelope and, more and more, challenging critics to address the sexuality in our work. In the mid '80s we did these big giant paintings of three poodles fucking. I remember the media referring to them as 'metaphors for artists working together.'"
Ms. Hubbard said that this is a "transition moment." The old language for talking about queer theory is still there, but the question, she said, is "What comes next?"
What does it mean, then, to have an exclusively LGBT artist residency in 2011? Most of the FIAR residents say the conversation should be about the work, and talking about the artist's sexuality is simply a way of avoiding that. Still, a lot of time during those two weeks was spent talking about queerness. Mr. Bogia thinks of the residency as a place to have the kinds of conversations about work and practice that students have in graduate or undergraduate programs, only with an exclusively gay audience. He said he was the only openly gay student in his class in undergrad at NYU and that he had to push those kinds of conversations.
"One of the things I talked about with other residents there was what's the value of making work that goes under the name 'queer,'" said Mr. Burgher. "I deal with a lot of male bodies and naked male bodies, so it's easy to label it as 'gay.' But I question the value of that. Some days I identify myself as a queer artist and some days I don't. When I'm angry about something that's happening politically or socially, that part of my work tends to flex."
Mr. Brewer put it a little more bluntly.
"Of course I'm a queer artist," he said. "I'm queer and I'm an artist."
mmiller@observer.com