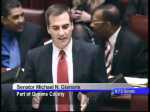 The buzz around Albany yesterday was that Gov. Andrew Cuomo did the Senate Republicans a huge favor by taking the millionaire's tax off the table in his tax overhaul plan. The thinking was that without that wedge issue to run against, Democrats have been denied a key talking point going into the 2012 elections.
On Fred Dicker's radio show today, Queens Sen. Michael Gianaris, who is in charge of the Democratic effort, said Republicans should be praised for adopting the Democratic agenda.
"They helped us pass same-sex marriage in June. They helped us pass a progressive tax structure just yesterday," he said. "I am giving them credit for helping us achieve the goals that we set out to achieve at the beginning of this year."
Mr. Gianaris said that it was not a winning strategy for them, "When given the choice between Republicans that act like Democrats or actual Democrats, we can expect that the voters are going to elect real Democrats to run the state legislature."
He noted that the GOP flip-flop on pledging to not raise taxes, just as they appear set to flip-flop on non-partisan redistricting, and he compared them to another prominent Republican to be labeled with the flip-flopping charge
"I noticed a lot of the leadership of the Senate conference endorsed Mitt Romney last week. It sems to me that are changing their positions about as frequently as he has," he said.
Mr. Gianaris said that the state was becoming more and more Democratic, and said that there were up to a dozen seats that the party was targeting to take from the Republicans. The GOP has only been able to hold on to the Senate by "bastardizing redistricting."
Mr. Dicker asked the Senator if he had received word that Gov. Andrew Cuomo would help the party in 2012 retake the chamber. Mr. Gianaris said that he had, but refused to say more, despite some serious prodding from the host.