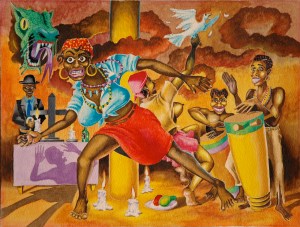 When the prodigious, profligate, lowbrow, brilliant, Bronx-born filmmaker and artist George Kuchar died in September, it was in the midst of the planning for "Pagan Rhapsodies," the large show devoted to his work, currently on view at PS1. In the kind of careful, carefully noncommittal juxtaposition that gave his work its elliptical intelligence and diffuse but disciplined purpose, his death has transformed the exhibition into a memorial retrospective.
With a room given over to a vinyl blowup of Kuchar's 1975 comic about the life of H.P. Lovecraft; four rooms housing movie screens as well as rows of theater seats; a fifth full screen that transforms the show's first room into a lobby, complete with red carpet, bright, tacky, colored lights, and mounted lightbox photo of an adult Kuchar sitting on Santa's lap; a scattering of oils and watercolors; and two more rooms full of TVs showing another two dozen films on loops, the show does a good enough job at mirroring Kuchar's kitchen-sink method that the annoyingly overlapping soundtracks seem intentional. "I don't mind you making love with your clothes on, Howard," says Lovecraft's wife, Sonia, in the comic, "but couldn't you at least take your gloves off?"
That deceptively unfiltered method is epitomized by a moment in one of those looping shorts, 1977's black and white I, an Actress, in which Kuchar films himself directing Barbara Lapsley to "play it up real big" in telling off a mannequin standing in for her boyfriend. "When I cheat," Kuchar vamps, to demonstrate, running his hands up and down his chest, "it's not for sex—it's for revenge!"
The glamour of onscreen straight romance represents an attainable social normality because it's completely unreal and therefore equally unattainable for everyone. That much is straightforward enough, so to speak, as is the cigarette falling out of Ms. Lapsley's mouth when she tries to emulate the director's emulation. Likewise his appreciation of the accident, and directing Ms. Lapsley to repeat it. It's including in the final cut the actress's inability to accurately re-enact her original failure to re-enact—when she wants the cigarette to fall, it sticks to her lip, and she has to spit—that both shows and removes the director's hand in a single, highly conscious, confessionally self-effacing gesture.
Hold Me While I'm Naked, a 17-minute cinemasexual masturbation fantasy/cri de coeur, was released in 1966, three years after John Schlesinger's Billy Liar and two years after Susan Sontag's "Notes on Camp." A woman in a green ball gown is running behind a chain link fence, but as the camera pans to follow her, it crosses, in the foreground, an alluring teenage hood. Boys' names are written in graffiti on the wall: Willy, Joey, BD. Kuchar's grinning face fills the frame, and then credits, and then a series of minutely cut vignettes that simultaneously create and explode a narrative. (That narrative is about Kuchar's trying to make a softcore movie despite the lead actress's dropping out—"I am sick and tired of being naked in almost every scene!"—but also about living in fantasy as an escape from irreconcilable reality, the appeal of Hollywood, masturbating in the shower, the creative process and several hundred other things.) There's neither visual nor audio continuity in any simple sense, but Kuchar pre-empts your ability to actually experience any discontinuity with his impeccable timing. He knows exactly how long it takes to read a given image—two seconds, one and a half—and gives you exactly that much time with it, so that when, for example, he cuts from himself spinning in circles in the shower to a view of television antennas trembling in the wind, you can't decide whether the antennas, as a symbolically cinematic orgasm, are the second term of the shower scene, or the first term of something else. You don't have time. And because you can't decide, it has to be both: you're co-opted and pushed away in the very same gesture.