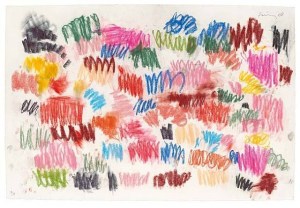 A stark, stunning and gigantic abstract painting by German painter Günther Förg is on view right now in the new installation of the Museum of Modern Art's contemporary galleries, but–amazingly–it has been no less than 11 years since the artist has had a one-person show at a New York gallery, back in 2000 at Luhring Augustine.
On Jan. 19, that will change. Greene Naftali, which now represents Mr. Förg in the U.S., is set to open a solo show of his work.
Mr. Förg is perhaps best known for his eclectic abstract paintings, which include basic two- and three-color hard-edged abstractions that have been compared to work by Barnett Newman, Brice Marden and Blinky Palermo (an old friend), and other pieces that features free-floating patches of color and sketchy grids. He has also produced photographs, often depicting Modernist architecture.
Though New York Times critic Ken Johnson panned Mr. Förg's 2000 exhibition, describing the work as "immense, carelessly painted abstractions that play with the standard formal devices of Modernist painting," and adding, "There is an empty, generic quality to these pictures," the time may be ripe for a Förg comeback in the States, following the recent surge in appreciation for some of his German compatriots, like Imi Knoebel and Blinky Palermo.
Mr. Förg also shows with Galerie Lelong in Paris, Max Hetzler in Berlin and Gisela Capitain in Cologne.