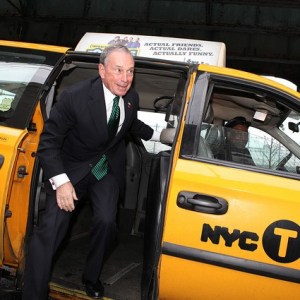 The signing of yesterday's new taxi bill represented a huge boost to disability advocates and raises serious questions over the city's recent cab policies on the whole. After Governor Cuomo threatened to veto the outerborough taxi bill, on grounds of discriminating against the disabled, a compromise was reached with the Mayor's office and, now, a new fleet of accessible cabs will be taking the streets.
Whether all taxis will be accessible some day—perhaps Tomorrow—is still being worked out. While the mayor and governor were wrangling to get their vehicular way, The Observer has learned that Nissan considered making their new New York-only cabs handicap accessible, but the car maker felt the Bloomberg administration was indifferent to the plan and ultimately dropped it.
When the Nissan NV200 was chosen back in May, many were surprised the City didn't go for the more popular Karsan design. It was more environmentally friendly as well as being the only entry that was strictly wheelchair friendly. "You just cannot generally take a wheelchair into the street and hail a cab," Mayor Bloomberg said back in October, "It's dangerous and a lot of the cab drivers would pretend they didn't see you."
In an interview with The Observer, James Weisman, General Counsel for United Spinal Association pointed out "It's actually illegal for a taxi to pass someone on a wheelchair".
Nissan says it was just following orders. "We delivered on what the city asked," Joe Castelli, Vice President of Commercial Vehicles for Nissan, told the Observer last month. "We can make this vehicle that way," he added, referring to wheelchair accessibility, "but it will come with a cost, and it will really be up to the city if that's something they want to do."
However, the Observer can reveal that Nissan has actually been in talks with an automobile refit manufacturer, even before the official unveiling of the NV200.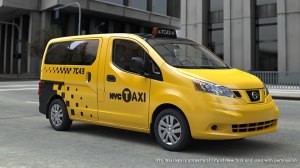 "We had discussions for several weeks earlier this year." said Jim Probst, taxi product manager at Braunability, a Indiana company that specializes in accessible refits, "I can't say how high up they went but I feel that they are serious about at least being able to provide an accessible service." He added, "When designing a vehicle every inch counts, every intricate detail. I am surprised they didn't go with an accessible design, yes" he said.
The message was, Nissan was willing to do this, if only the administration gave them the green light. Instead, signal from City Hall was yellow, if not an implicit red.
Nissan said it is still open to making an accessible vehicle, but that is not its current focus. "Nissan understands the concerns presented by certain disability advocates and is designing the NV200 Taxi to support a wheelchair-accessible version," Paula Angelo Nissan's Director of Communications said in a statement. Still, she reiterated Mr. Castelli's earlier comment regarding where the power lies.  "Nissan will continue to work closely with New York City's Taxi & Limousine Commission which has the lead for establishing wheelchair access requirements for the Taxi of Tomorrow program," she said.
Meanwhile, both the city and accessibility advocates are waiting on the courts to decide their fate. Judge George Daniels of the Southern District of New York is set to rule any day on the Disability Rights Advocates v. New York City case. Their gripe: the new Taxi of Tomorrow fleet violates the Americans with Disabilities Act.
At yesterday's announcement of the 20,000 new taxis, the Observer asked Mayor Bloomberg why he gave the impression he did not want the Taxi of Tomorrow to be accessible. "One of the things is that accessibility means different things to different people," the mayor responded. "All of these things there are compromises and we'll keep working on them."
The mayor and Taxi Commissioner David Yassky were excited the new bill provides for much more accessible cabs, but they did not think that provision should extend to the Taxi of Tomorrow. "Because, in the end, one of the things is it's a lot more expensive and some people think that the suspensions aren't all that good," Mayor Bloomberg said. He then beckoned to Mr. Yassky to field further questions. "The proposal for a fully accessible car was from a untested manufacturer," he said. "We were not going to put the system at the hands of a company that we couldn't have confidence would deliver. We will push forward with this, with the Taxi of Tomorrow vehicle that we can move forward with."
A spokeswoman for the mayor said it made sense for Nissan to consider an accessible option, since the carmaker might still be mandated to build one—a decision that might not even be made by City Hall. "We're not surprised that Nissan may be looking at retrofitting," Julie Wood said "There's a pretty clear reason—we'll have to see what the Judge decides."
As The Observer was leaving Seaman Car Service in Inwood, where yesterday's announcement was held, Edith Prentiss, chair of the Taxi For All Campaign tugged on the Observer's arm. "He vacillates" Ms. Prentiss said of the mayor. "He said we can't hail down cabs, I hail down a goddamn bus everyday!" That said, Ms. Prentiss was delighted with the news the city will have more than 5,000 accessible cabs under the new bill. Previously, the number stood at 232.
"This is our Hanukkah present, now we're waiting for Judge Daniels to give us our Christmas present," she said.
sduffy@observer.com