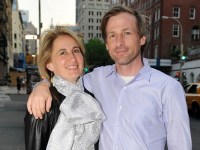 While Oliver Stone may be the director most associated with Wall Street, Spike Jonze can now truly lay claim to the road of the 1 percent. Mr. Jonze (nee Adam Spiegel) has purchased a Wall Street apartment, city records show, along with his sister Julia Spiegel Lunn.
According to a source familiar with the sale, Mr. Jonze and his sister bought the 75 Wall Street condo for their mother, artist/author/activist Sandy Granzow. The three-bedroom, three-bath condo will accommodate Ms. Granzow and both her children when they come to visit, though her son could also easily walk the 20 minutes it takes to get to his own home in the nearby Forward Building, where he has lived for the past five years.
The home is located on the 7 1/2-floor—actually, no, it's about a dozen floors up from there, with much better views of the harbor and Brooklyn, home to Mr. Jonze's former flame. The 182-square-foot master bedroom comes with a mammoth bath and a walk-in-closet. A 498-square-foot dining room joins the open kitchen, and a separate living room affords the ideal space to kick back and watch Adaptation. Mom and son are very close, and Mr. Jonze actually introduced The Observe to Ms. Granzow at a screening last year.
"It is a remarkable apartment because it was a custom combination of a two- bedroom apartment and a one-bedroom apartments," explained William Bish, the director of sales at Corcoran Sunshine, the group managing sales at 75 Wall. "Its one of the largest apartments in the building, with the exception of the penthouses," he told The Observer. Mr. Bish declined to comment on who exactly the apartment was for.
Originally listed for $2.58 million, Mr. Jonze and his sister paid just $2.35 million for the place.
The Observer seriously hopes we didn't just ruin their Hanukkah surprise.
eknutsen@observer.com