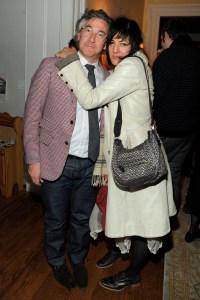 Everybody in New York publishing is very happy for Ira Silverberg. The former literary agent, a fixture in the industry for 26 years, started his new job as literary director at the National Endowment for the Arts earlier this week. And from the day his departure was announced to the day the job began, colleagues and clients have affected determined good cheer.
"I'm sorry for his writers," said Sarah Burnes, a literary agent and friend. "But I'm happy for the writers of America."
"It's the perfect job for him," said Lorin Stein, editor of The Paris Review, "securing money for worthy projects — especially projects that aren't on the face of it worthy or obvious."
But beneath all the breezy congratulations a hint of dread could be detected. Ira Silverberg might have left New York, but was New York ready to lose Ira Silverberg? Especially to Washington D.C.?
As an agent, Mr. Silverberg shepherded the careers of writers such as Neil Strauss, Sam Lipsyte and Dennis Cooper, but he has also served as the gay godfather to the rank and file of his profession. He has officiated at weddings, including the marriage of Twelve publisher Cary Goldstein. He provided the biologically necessary genetic material for two babies and serves as their "Uncle Mame" (they are raised by their mothers).
He is a man known for never shying away from a fashion statement, be it windowpane check or paisley, and for his expertise as a deal maker. Geoff Kloske, publisher of Riverhead, recalled how Mr. Silverberg helped him haggle for a dishdasha at the Abu Dhabi Book festival.
"I used to think Ira was all big talk and good looks until I witnessed him hondle on my behalf in a souk in Abu Dhabi," wrote Mr. Kloske in an e-mail. "He is an incredible negotiator."
Mr. Silverberg co-founded a club of editors-turned-agents who have met for lunch together at Japonica every six weeks for 14 years. He has hosted the annual Council of Literary Magazines and Presses spelling bee, strong-armed colleagues into bidding in silent auctions and buying raffle tickets, and served on the boards of the New School MFA Writing Program and BOMB Magazine. He also has a reputation as a good source for reporters (we've heard). Does this sound like an obituary? Good!
Mr. Silverberg got his first glimpse of the publishing world while still in college—enrolled not in an English literature program but in a joint six-year B.A./J.D. program offered by City College and New York Law School, which trained lawyers to work in underserved communities. But Mr. Silverberg's career as a lawyer was short lived. At 18, over a drink at a bar on Avenue A, he met and fell in love with James Grauerholz, William S. Burrough's longtime "manager and amanuensis." The romance led Mr. Silverberg to drop out of school, move to Kansas and immerse himself in a world of aging beat writers.
"William was my mother-in-law when I was quite young," said Mr. Silverberg of Burroughs.
He enrolled at the University of Kansas, cooked dinner with Mr. Grauerholz for Burroughs every night and absorbed the wisdom of Alan Ginsberg and Norman Mailer when they passed through town. At a conference celebrating the 25th anniversary of Jack Kerouac's On the Road at Naropa University in Boulder, Col., Mr. Silverberg met Peter Mayer, the founder of Overlook Press. When Mr. Silverberg's sojourn in Kansas ended in 1984 and he returned to New York, Mr. Mayer gave him a job as a file clerk, then promoted him to editorial assistant. The job was fun, but paid only $10,000 a year, so Mr. Silverberg famously moonlighted as VIP doorman at the nightclub Limelight.
"I probably made as much money in one night at Limelight as I did working 40 hours a week at Overlook," he said. Even better, his two offices were close to each other. "I could leave work at Limelight, sleep on the couch at Overlook, and make coffee for everyone when they came in in the morning," he said.
He then moved to Grove, where Barney Rosset hired him as its director of publicity in 1985, when Mr. Silverberg was 22. He left in 1990 to start a freelance publicity company serving small presses, non-profits and literary magazines and edit the US line of books for the British publisher Serpent's Tail. After returning for another short stint at Grove, now under Morgan Entrekin, Mr. Silverberg decided he wanted to work more closely with writers. In 1998 he joined Donadio & Olson as an agent. The Japonica lunch group for editors who became agents began shortly thereafter, and they have met for lunch every six weeks ever since.
"It was started by him and Betsy Lerner," said Sarah Burnes (Mr. Silverberg adds that Mary Ann Naples was another founding member). "We all made a similar transition which isn't as easy as one might think."
They discussed when, as agents, they should stop editing a client and how to deal with a hazard of being a former insider at a publishing house—when, as Silverberg put it, "you know too much."
"We were probably too author-friendly and we all stayed that way," he said.
Mr. Silverberg's authors certainly remember him that way.
"I remember when no publisher would take my book Home Land Ira stood by me very bravely. He fought and fought," recalled the novelist Sam Lipsyte in an e-mail. "At one point he said, 'I'm not crazy, this book should be published.' And even though I could hear a faint trace of 'Am I crazy?' in his words, I knew he would not let that thought win." Mr. Silverberg did, however, mention that other of his clients had gotten real estate licenses.
"But that's Ira, covering all the bases," wrote Mr. Lipsyte. "He speaks honestly to his writers, no bullshit." Mr. Lipsyte said he hasn't decided on a new agent yet.
"Ira is a great gossip and he's mischievous and sometimes he likes to stir up trouble, but he never sacrifices the well being of the client-editor relationship as long as he can preserve it," said Mr. Stein, who as an editor at FSG had a storied working relationship with Mr. Silverberg and published books by many of his clients. He added that Mr. Silverberg was usually "the grown up in any complicated situation."
Given his experience as a publicist, editor and agent, Mr. Silverberg also had a reputation as a fixer.
"Ira is the kind of guy who knows everybody," said Twelve publisher Cary Goldstein, who wrote Mr. Silverberg seeking a recommendation for someone licensed to conduct wedding ceremonies. Mr. Silverberg, who had gotten a license to officiate the wedding of food writers Christine Muhlke and Oliver Schwaner-Albright, wrote back a two-word reply: "I am." To which Mr. Goldstein said he replied, "Shut the fuck up!" and retained his services.
"Long story short," Mr. Goldstein concluded, "Ira, as he does all things, took it very seriously." He invited the engaged couple to a "counseling dinner" to get to know Mr. Goldstein's bride, Gina LeVay, and discuss the details of the ceremony.
"I have to tell you, in all honesty he performed the most beautiful wedding," said Mr. Goldstein, who said that it opened with Mr. Silverberg welcoming guests to "Cary and Gina's nondenominational nontraditional multicultural wedding."
Mr. Goldstein sighed and said he would be missing Mr. Silverberg—but of course, "I think having somebody like Ira at the NEA is good for all of us."
Mr. Silverberg will not be totally absent from New York — his family, including his husband Bob Morris, is still here — but he sounded wistful as he acknowledged the difficulty of saying goodbye to his clients, whom he called "people who I kind of can't imagine a life without.
"For me it was very hard because it's ending relationships that I don't think I ever really thought about ending," he said.
The month of long goodbyes culminated with a party on the rooftop of The Standard hotel on November 29. "No rsvp," said the invite, "just come & weep."