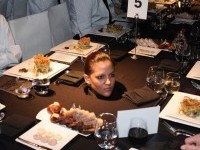 It has been more than a month since Marina Abramovic brought nude women and live rotating heads to the dinner tables of the Los Angeles Museum of Contemporary Art's annual gala dinner, prompting an angry letter from choreographer Yvonne Rainer and other luminaries, but it remains a subject of fierce debate.
This past weekend, three L.A. denizens organized a panel to discuss the event with about a dozen of the gala performers at Los Angeles Contemporary Exhibitions (LACE). And, near the end of the event, the man himself, L.A. MOCA director Jeffrey Deitch, arrived and took questions. Catherine Wagley of L.A. Weekly has the story.
Why, one person asked Mr. Deitch, who came near the end of the event, were there no naked men at the gala? Here is L.A. Weekly with the response:
"'That was my request to Marina Abramovic,' said Deitch, citing the discomfort the conventional businessman feels when confronted with male nudity. 'We subjected people to a lot of things,' he continued, but said when you push something out to the edge you have to be careful not to go over.'"
Surely there must be some businessman in L.A. that enjoy the sight of male nudity. And what of the women in the audience? In any sense, the panel added some new details about the experiences of performers, who had been cited in stories only rarely, and the protesters outside the event. (One held a sign with a guillotine, etc.)
Artist Blaine O'Neill, who said he served as a rotating head at the table of mega-collector Eli Broad and L.A. mayor Antonio Villaraigosa had this to say: "The only person who gave me more than five minutes [of eye-contact] was the mayor… But that was a pretty fun experience—to stare down the mayor." Well played, Mayor Villaraigosa. And artist and nonprofit director Carrie McILwain declared, "One woman, I felt like she couldn't eat in front of me."
As Ms. Wagley concludes, it seems entirely possible to see the event as one in which the power of the performers really did overwhelm that of the guests but "[b]ut that didn't mean they weren't exploited." (Performers were paid $150 and received a one-year MOCA membership in exchange for two days of work.)
One of the forum organizers thanked Mr. Deitch for attending the forum, which was a smart, classy move on the director's part (and the organizer's). But, to our mind, Mr. Deitch best summed up the ultimate lesson of this whole brouhaha back in November, when he told The Observer's Susan Michals: "We wanted an event and we got one." Spectacle was often his primary concern as a dealer, trumping concerns of quality. Here it may have trumped concerns of ethics.
And yet, we admit to missing Mr. Deitch. While he is busy preparing what sounds like it will be an epic Julian Schnabel retrospective, we are left with a show by Mr. Schnabel's daughter, Lola Montes, organized by one of the ex-dealer's former employees.