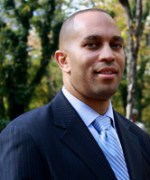 Hakeem Jeffries sent out a fundraising email that left little doubt his intentions to run for Congress, and showed that the Assemblyman has something of a sardonic sense of humor.
Several years ago, as an attorney in a Midtown Manhattan law firm and candidate for the state legislature, I often was asked the question: Why would you want to go to Albany, that swamp of dysfunction?  As a candidate for Congress I'm now asked the question: Why would you want to leave Albany, that paragon of democratic virtue . . . and go to Washington, that swamp of dysfunction? (My how things change)
The notion of comparing how Albany functions as compared to Washington is something that Gov. Andrew Cuomo has been harping on quite a bit recently, and shows how much the public perception of the state legislature has improved while the public perception of Washington has diminished. Mr. Jeffries introduced Mr. Cuomo's lieutenant governor, Robert Duffy, at the Democratic convention last year, something that he has been criticized for by one of his chief rivals for the seat, Charles Barron
The seat is currently held by Ed Towns, who has said he intends to run for re-election.
Mostly however the email is devoted to the substance of Mr. Jeffries' record, an advantage that his supporters believes vault him ahead of Mr. Barron, who they accuse of being all-talk and self-promotion with little legislatively to show for it.
Why does Mr. Jeffries want to go to Washington?
"The answer is quite simple," he writes.  "Government matters."
He then goes on to city his accomplishments:
During my  five years in the Assembly, I've advanced a progressive legislative agenda designed to improve the quality of life for all New Yorkers.  My accomplishments include:

Sponsoring a law that protects the privacy rights and civil liberties of innocent, law-abiding New Yorkers who were stopped, questioned or frisked by the NYPD, but found to have done nothing wrong.

Passing legislation designed to transform vacant luxury apartments – that had failed as market-rate developments – into affordable homes for working and middle-class families.
Reforming the NYPD's policy on arresting New Yorkers for possession of small quantities of marijuana in "plain view".

Advocating for education reform.  Co-sponsored legislation in 2010 that was essential to New York State's successful Race to the Top application that secured approximately $700 million in public school funding.