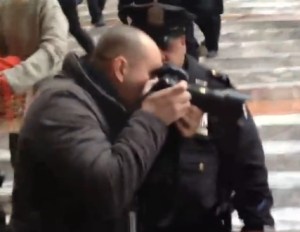 On Monday, a video emerged from the protests over the World Financial Center Plaza, where Occupy Wall Street protesters had yet another clash-in with the police. But perhaps the most interesting thing in the video wasn't the police, or the protesters: it was New York Times' credentialed freelance journalist Robert Stolarik, being pushed down some stairs by an officer, moved back with a baton by another, and barred from taking pictures by a third, who kept jumping to get in his way. And this was after The New York Times, along with several other high-name publications, had sent a letter to Mayor Bloomberg and Ray Kelly regarding their treatment of the press when it came to OWS events.
We spoke to Mr. Stolarik–one of the few reporters who was actually allowed in Zuccotti Park on November 14th, go figure–about how The New York Times reacted to this latest slight on their First Amendment rights, and NYPD's response.

(Video starts at 2:00 mark.)

"I'd rather have the video speak for itself," Mr. Stolarik told us by phone yesterday, when we asked him to describe the events on Monday. Suffice to say, he did not know he was being filmed, but afterward the protester who shot the video of his harassment went up to him and offered his contact information.
"It wasn't until later in the day when I started getting phone calls from friends, saying 'Is that really you?' that I knew he had put it online."
So what about the e-mail that The New York Times' sent to the NYPD, requesting a response for their actions? (This was not, apparently, the op-ed that David Carr wrote called "The Police, the Press, and the Protesters: Did Everyone Get the Memo?")
"Yes, I believe The New York Times' got a response from the NYPD press office," Mr. Stolarik said. "They said they were 'looking into disciplinary measures' for one of the officers. But I don't know which officer…if it was the one who pushed me down the stairs, the one who backed me up with a baton, or the one who blocked all my shots. I kept asking this guy if he knew what he was doing, and he nodded in confirmation and kept doing it."
Later, Mr. Stolarik said, he had his credentials taken away by a higher ranking officer who was "very respectful," and who ran his numbers through. "We talked for a bit, and it was very calm," Mr. Stolarik tells us, who was given back his credentials shortly after. "When we were finished, another officer comes up and escorted me out of the building."
So much for getting one of those awesome NYPD-respected press credentials that we've all been longing for.