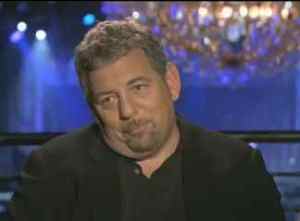 IT'S ENOUGH TO GET ONE'S KNICKERBOCKERS IN A TWIST. The MSG Network and Time Warner Cable—handily the largest cable provider in the five boroughs—are currently embroiled in heated negotiations. They're fighting over what the cable provider is willing to pay per customer for the MSG Network, which carries the New York Knicks' and New York Rangers' games. If both sides fail to come to an agreement, New Yorkers with Time Warner Cable won't get their Knicks and Rangers fix.
So the MSG Network has started a campaign, with wonderful posters like this: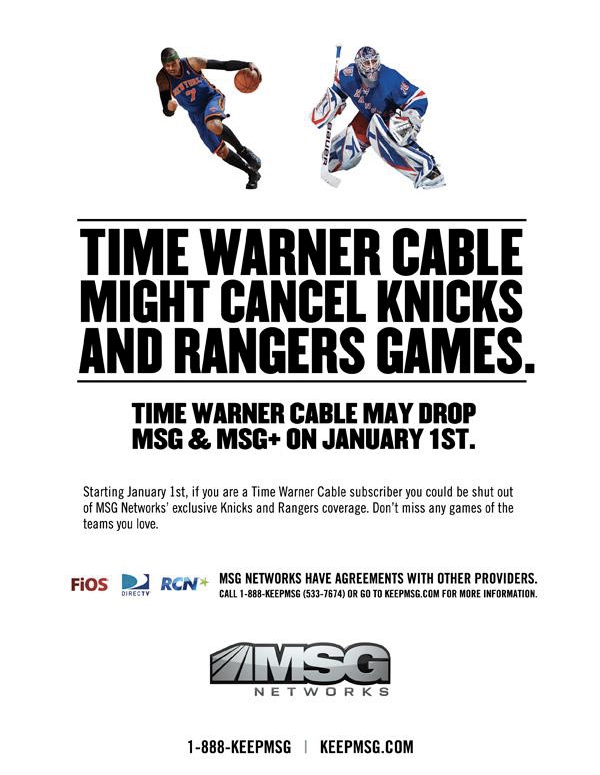 But what kind of increase is the MSG Network asking for of Time Warner Cable? WNYC reports:
"We were very close to an agreement for a 6.5 percent price increase," said Eric Mangan, a spokesman for Time Warner Cable. "However, about two weeks ago, MSG reneged on that offer and is now demanding a whopping 53 percent increase."
That seems awfully high! Would the MSG network have any other potential motivations to put the squeeze on Time Warner Cable other than that of pure profit?
Funny you should ask.
Madison Square Garden Entertainment owns the MSG Network, the Knicks, and the Rangers. The MSG Network carries the New York Knicks and the New York Rangers games.
In 2010, Madison Square Garden Entertainment was spun off from Cablevision, who owned them.
Cablevision is a cable network. As a cable network, they are a potential competitor of Time Warner Cable.
James L. Dolan is the chief executive of both Cablevision and Madison Square Garden Entertainment (which includes the Knicks, and the MSG Network).
Because James L. Dolan oversees Knicks, the channel carrying the Knicks, and a cable company that competes with other cable companies, he can apply the same costs to his own cable company for the MSG Network as he can other cable companies. [If he applied different costs, that'd be price gouging.] So he and MSG can just make the price high for everyone, including Cablevision.
And if that high price is too much for anyone other than his own cable company (and a few others, maybe) to pay for, well, that's their problem. It's not like most of them can't switch to a different cable provider. Like Cablevision.

But the Knicks and their owners love New Yorkers and Knicks fans, right? And doing such a thing could be construed as a monopolistic practice, maybe, if they were still the same company (which they're technically not, but categorically—as in, "run by the same guy"—are). They'd never to that to anyone! It's not like there's precedent for this.
Except, there is.
From the New York Times, around the time when Cablevision spun off MSG Entertainment:
….Another potential reason for Cablevision to consider selling the Garden unit [is] namely the new Justice Department investigation into its monopolistic practices as reported in The Times last Saturday. Justice is supposedly acting on complaints by Verizon that Cablevision is improperly preventing them from buying sports shows and other programs that the cable companies produce. If you are a Verizon Fios TV subscriber, you won't see Rangers and Knicks games in HD, programming that Cablevision reserves for its own customers and proudly trumpets in promotional materials.
And what did MSG have to say about any of this? Again, via WNYC:
MSG did not respond to inquiries about the dispute, but in a statement, Michael Bair, the president of MSG Media, said, "We have been attempting to negotiate a new agreement with Time Warner Cable for close to two years, and are simply asking them to pay fair and reasonable rates that are consistent with what other providers pay for our programming – nothing more."
Except, perhaps, a subscription to Cablevision. Which, for the record, again, totally spun them off last year around the same time they were being investigated for monopolistic practices, though they're not the same company, even though they have the same chairman whose interests in pricing out Cablevision/Optimum's competition like Time Warner are intrinsically interconnected.
fkamer@observer.com | @weareyourfek