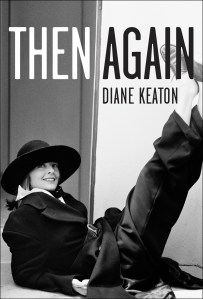 In 1977, Dorothy Hall went to a screening to watch her daughter, Diane Keaton, star in a new Woody Allen film, Annie Hall. She wrote about the experience in her journal:
I only saw Diane, her mannerisms, expressions, dress, hair, etc, the total her. The story took second place … She looked beautiful … She chose her own clothes … It seemed real. Annie's camera in hand, her gum chewing, her lack of confidence; pure Diane.
Three decades later, Ms. Keaton recalls her first screening of Annie Hall:
I went to a matinee on 59th and Third. There was a smattering of people in the theater. I didn't hear any laughs. Like Mom, I was so consumed by the "me" of it all that I couldn't pay attention to the story … Predictably, I hated my face, the sound of my voice, and my awful "mannerisms." On the positive side, I knew I was lucky.
Ms. Keaton creates collages like the one above throughout her new memoir, Then Again (Random House, 304 pages, $26.00), frequently borrowing passages from the 85 journals her mother left behind after her death in 2008. It's an inventive, generous technique that turns Ms. Keaton's book into something more than the usual celebrity-memoir victory lap. Instead, it's a retelling of two women's lives: one a war bride, the other never married; one pregnant with her fourth child by age 30, the other adopting a baby at 50; one crowned "Mrs. Highland Park," the other winning an Academy Award; one a role model, the other an icon.
The difference in these two women's fates is poignant, especially as Ms. Keaton considers the social and economic forces that pushed her artistic mother toward homemaking rather than writing, which was clearly her passion. Ms. Keaton often wonders if her mother longed for more concrete accomplishments, or for an audience beyond her family. "As her only congregation, Mom was always in the business of being her own best friend," Ms. Keaton observes, after excerpting a list of self-improving affirmations from her mother's diary. It's an insight that becomes more affecting after Ms. Keaton's mother learns she has Alzheimer's disease and turns to her journal to keep track of names, places and words. One entry reads, "Quick, what's today's date?"
As young women, Ms. Keaton and her mother shared similar creative impulses toward beauty, authenticity and self-knowledge. That Ms. Keaton was able to parlay hers into a career sometimes seems like an accident of birth. Elsewhere in the book, however, Ms. Keaton reveals the ambition behind her rise to fame. In a letter home, she complains of a scene partner who won't learn his lines, writing that if Sandy Meisner, her acting teacher, "thinks our scene is lousy, it's going to hurt my chances for next year. Do you think I should ask for a new scene partner? Or would that make me a creep?" A couple years later, while filling in for the lead in the musical Hair, she was told she could have the part if she lost weight. "I hightailed it to Dr. Paul, who, for, fifty dollars a shot, would inject me with vitamins—speedy vitamins." Later, Ms. Keaton's obsession with food and weight loss led her to become bulimic. She struggled with the disease for five years until psychoanalysis provided a cure.
It is a little sad to learn that Ms. Keaton, who has always seemed immune to Hollywood's exacting standards of femininity, suffered from an eating disorder. While other actresses of her generation have succumbed to plastic surgery, Ms. Keaton has gracefully bade farewell to her youth, refusing to become a slave to vanity. But hiding her bulimia, she tells us, would have been a vanity in and of itself. "I know 'coming clean' is not going to deliver the flattering picture I prefer to roll out with great effort year after year." Later, musing on the difference between prettiness and beauty, she wonders if she is finally ready to give up her pursuit of pretty and hope instead for fleeting moments of beauty. "I don't know if I'm brave enough to live without answers or to stop looking at myself."
And yet, who could ever stop looking at Ms. Keaton? She has become as notorious for her personal style as for the roles she's played. Of the famous menswear look of Annie Hall, she gives credit to Mr. Allen, whose directive to "wear what you want" was a first for Ms. Keaton. She reveled in the freedom, stealing looks from "the cool-looking women on the streets of New York." She got the idea of wearing a man's hat from "Aurore Clément, … who showed up on the set of The Godfather II wearing a man's slouchy bolero pulled down low on her forehead." Ms. Keaton's mother was another formative influence, helping her supplement homemade dresses with thrift-store finds. "We cut up old men's tweed jackets and made patchwork miniskirts." In a journal entry dated 1962, Dorothy Hall notes, "Diane's hair is ratted at least four inches high. Her skirts are three inches above the knees … To us here at home, she looks her best at night, when all the rats are out and she is in her comfortable pants with no eye makeup." This was the version of Ms. Keaton that Mr. Allen seemed to like best too, and which he revealed to the world in Annie Hall.
Everyone was in love with Ms. Keaton after Annie Hall, but she was uncertain of how to handle her newfound celebrity. She took shelter in small roles, including Mr. Allen's unpopular drama Interiors. People assumed she and Mr. Allen were still together, but they had broken up two years before shooting Annie Hall. By then, she had begun to date Warren Beatty, known as "The Prince of Hollywood." Mr. Beatty encouraged her to think big and cast her as the lead in Reds, which he directed and co-starred in. But his directing style was abrasive. "It was impossible to work with a perfectionist who shot forty takes per setup. Sometimes it felt like I was being stun-gunned." Although Ms. Keaton received an Oscar nomination for her performance, she never felt it was her own. "It was more like a reaction to Warren."
She is frank about her career missteps in the years that followed. The third and final section of Then Again begins with a list of her most forgettable roles from the 1980s. Although she took many jobs, her acting, by her own description, was uninspired. She missed working with Mr. Allen, who had begun to write movies for his new leading lady, Mia Farrow. "Without a great man writing and directing for me, I was a mediocre star at best." In a rut, Ms. Keaton tried her hand at producing and directing. Her early efforts failed, but brought interesting men into her life, including Larry McMurtry and her old Godfather co-star, Al Pacino. She and Mr. Pacino began to date, rekindling a mutual crush. Their affair lasted for several years, ending when Mr. Pacino was unwilling to commit to marriage. "Poor Al, he never wanted it. Poor me, I never stopped insisting."
The break-up with Mr. Pacino coincided with the death of her father. Both events were wake-up calls, forcing her to come to terms with the fact that she had never married or had children. If she wanted the intimacy of family life, she would have to do it on her own. Ms. Keaton's account of her first adoption is moving, especially when she reveals that her mother's Alzheimer's was diagnosed shortly afterward. As she watches her mother deteriorate, she becomes even more self-conscious about being an older mother. In a letter to her daughter, Dexter, she describes her decision to adopt a second child. "Imagining you at 30 and me at 80, you know what I see? I see you won't want to be alone."
Ms. Keaton addresses her children throughout Then Again, and sometimes, with its random bits of family history, it seems as if the book were written for them alone. But Ms. Keaton would be the first to admit that an audience of two is not enough for her. Recalling that the late Mr. Meisner's technique emphasized maturity and life experience, she observes that only now, as her career is waning, is she able to give a fully realized performance. "It's hard to believe the accumulated knowledge I'm ready to give isn't what audiences are always interested in."
editorial@observer.com