For nearly a century, the 37-story Williamsburg Savings Bank Tower dominated the Brooklyn skyline, it's 512 feet earning it the title of Brooklyn's tallest building. Now, after memories of the recession have faded into the real estate abyss, ambitious developers are back in the game, ready to make their childhood Guinness Book of World's Records dreams come true. Get ready for the Battle of the Buildings as next year, not one, but two Brooklyn developers plan to break ground on Brooklyn's tallest skyscrapers, according to The Journal.
Early next year, Stahl Real Estate's monstrous 590-foot luxury rental apartment condo at 388 Bridge Street will be the tallest apartment house outside of Manhattan, surpassing two-year-old newcomer The Brooklyner, which stands at 514 feet tall. However, neither may hold the tallest title for long, as late next year, AvalonBay Communities plans to build it's new Willoughby West building, which will stand 57 stories high, looking down at Stahl's building from a mere height of six feet.
Gregg Wolpert, co-president of the mighty Stahl Real Estate that has a stronghold of 3,000 apartment units and 5 million feet of office space, doesn't seem worried about the competition, noting that AvalonBay is still in the planning stages and has more than a few logistical obstacles to clear.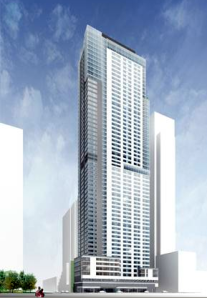 "Anyone can say anything they want, that they're going to build the tallest building," he told The Journal.
Mr. Wolpert has a confidence that's justified, having built The Laureate, the Upper West Side's favorite new luxury  condo. Stahl has recently cleared the biggest hurdle, having been granted a loan by a group led by M & T bank, a move which assures that the $265 million apartment complex will most certainly open its doors in the first quarter of next year.
What remains unclear is whether Brooklyn can handle the projected development boom, as hundreds of rental units are set to rise in the next year, thanks in part to Mayor Bloomburg's 2004 and 2005 rezoning initiatives, which now allow Downtown Brooklyn as well as the Williamsburg and Greenpoint waterfronts to host the harrowing high rises. Although the median monthly Brooklyn rents are up from $2,100 a month in March to $2,300 in October, it remains to be seen whether residents will prefer skyline views to picturesque pre-war brownstones.
realestate@observer.com